BOYA BY-XM6 S2 Digital True Wireless Microphone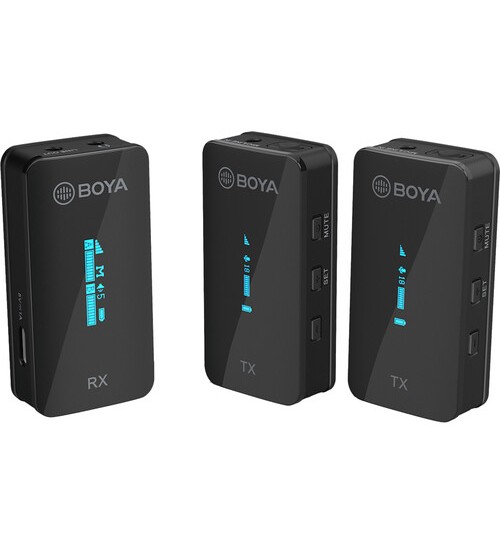 Lihat gambar lebih detail
Features
>> For Video, Vlogging, YouTube, Instagram
>> 2 x Compact Clip-On Mic/Transmitters
>> 2 x Omnidirectional Lavalier Mics
>> Compact Dual-Channel Receiver
>> Easy-to-Use Plug & Play Operation
>> Adjustable Gain, Headphone Monitoring
>> 3.5mm Cables for Camera & Mobile Device
>> 6.5 Hrs on Built-In Rechargeable Battery
>> Up to 328' Range
The compact, dual-channel receiver offers a 328' line-of-sight maximum operating range and includes an attachment clip and 3.5mm output jack. Connecting cables for both your camera and smartphone are included, while a second 3.5mm jack is for headphone monitoring. The transmitters and receiver are both powered by rechargeable lithium-ion batteries; each transmitter will run for up to 7 hours while the receiver will run for 6.5 hours. The components arrive pre-paired at the factory—just power up, plug the receiver into your camera or phone, and you're ready to go.
Easy-to-Use System with Two Clip-On Mic/Transmitters + Lavalier Mics
>> The compact clip-on transmitters feature built-in microphones for a true-wireless solution for on-camera talent.
>> Two lavalier mics are included when a more discreet look is desired; the mics plugs into the 3.5mm jacks on the transmitters.
>> A fur windshield is provided for each transmitter and a foam windscreen is provided for each lavalier.
>> The omnidirectional pickup patterns on the transmitter mics and the lav mics help to deliver consistent audio levels, even when the subject turns away form the mic capsule.
>> The adjustable gain control on the transmitter allows you to optimize the input for speakers and performers with varying performance styles.
>> OLED screens on the transmitters make it easy to see levels, along with battery, mute, and pairing statuses.
>> Simply power On the receiver and transmitters to access reliable wireless audio functionality in an instant.
Compact, Dual-Channel Receiver
>> The compact receiver clips to your camera's shoe mount or a smartphone holder (available separately) and connects to the 3.5mm input jack on your camera or mobile device.
>> The receiver's output level can be adjusted to accommodate various cameras and recording devices.
>> A 3.5mm TRS cable for connection to a camera or camcorder is included. A 3.5mm TRRS cable for connection to a smartphone or tablet equipped with a headphone jack is also included.
>> The receiver features a 3.5mm headphone jack for monitoring.
>> The receiver offers mono and stereo modes; you can have a mix of both mics on the camera's left and right tracks or record each mic to a separate track.
>> The OLED screen makes it easy to see levels, battery statuses, mute, mono/stereo, and pairing statuses.