Benro C373FBS8 Video Tripod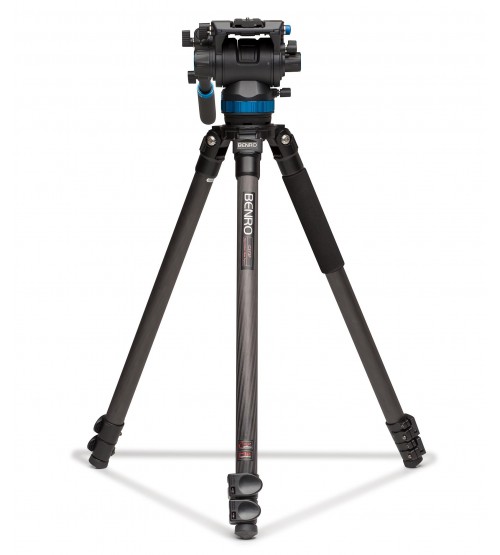 Lihat gambar lebih detail
Benro C373FBS8 Carbon Fibre Video Tripod Kit :
The Benro Tripod offers a complete tripod system for video applications that will support cameras weighing up to 8kg. The tripod consists of two stage legs, with three sections that are secured using flip- lock levers and include spiked feet for increased stability. The tripod legs are made of carbon fiber for extra strength and lighter weight. The legs feature a spreader-less design with three discreet stops for locking them at different degrees of spread. In addition, they can be opened fully for very low-angle shooting. The system has a maximum height of 63.8", folds down to 31.9", and weighs 5kg. The tripod includes the S8 Pro Video Head. Designed to give more precise control. The head features stepless continuous adjustment of both pan and tilt drag. It can pan a full 360° as well as tilt forward 90° and backward 70°. To help compensate for cameras weighing different amounts, as well as adapt to payloads with varying centers of gravity, the head also features a four-step adjustable counterbalance system. A 75mm half ball adapter is included and can be removed for attaching the head to other tripods, slider dollies, and other types of camera support that use a threaded 3/8"-16 stud. The removable pan bar handle can be mounted for left or right handed operation. Additionally, a second pan bar handle can be purchased if using zoom and focus remotes or desire two-handed operation. Sliding quick release plate can be positioned up to 1.5" forward and 1.7" back of center to simply balancing. Illuminated bubble level is incorporated for perfect leveling. Ratcheting lock levers offers greater control for pan, tilt, and the quick release plate.
Benro C373FBS8 Carbon Fibre Video Tripod Kit is available at Microglobe at discounted price. Microglobe is largest online sport optics store of the UK.
Benro C373FBS8 Carbon Fibre Video Tripod Kit
Features - Benro C373FBS8 Carbon Fibre Video Tripod Kit
Ratcheting lock levers for, pan, tilt and quick release plate
Removable pan bar handle can be mounted for left or right handed operation
Superb for photographers who needs stability, flexibility and superior mobility
Supplied with soft case that holds the complete tripod system when folded and includes a shoulder strap for easier transport on the move
Offering exceptional rigidity and torque-resistance, so critical to smooth camera movement
Sliding quick release plate can be positioned up to 1.5" forward and 1.7" back of centre to simply balancing
Offer more precise control, the head features stepless, continuous adjustment of both pan and tilt drag
Carbon fibre construction makes it lighter than aluminium and not subject to bending or denting
Specification - Benro C373FBS8 Carbon Fibre Video Tripod Kit

Model
C373FBS8
Material
Carbon Fibre
Leg section
3
Maximum Height
162cm
Folded Length
81cm
Leg Lock Type
Flip Lock
Leg Pipe Diameter Maximum
32.5mm
Leg Pipe Diameter Minimum
21.8mm
Independent Leg Spread
Yes With 3 Stops
Head Attachment Fitting
75mm Bowl Interface
Head Type
S8 Video Head
Tilt Lock
Yes
Drag Control
Lock
Panning Range
360°
Separate Panning Lock
Yes
Head to Tripod Mounting Thread
3/8"-16 (Removable 75 mm half ball included)
Quick Release Plate
Slide-In Video (QR-13) 1/4-20 & 3/8
Tilt Range
+90 / -75 (Stepped 0-3 Fluid Cartridge Balance)
Levelling Bubble
Yes
Load Capacity
8kg
Weight
5kg