Bose QuietComfort 45 Headphone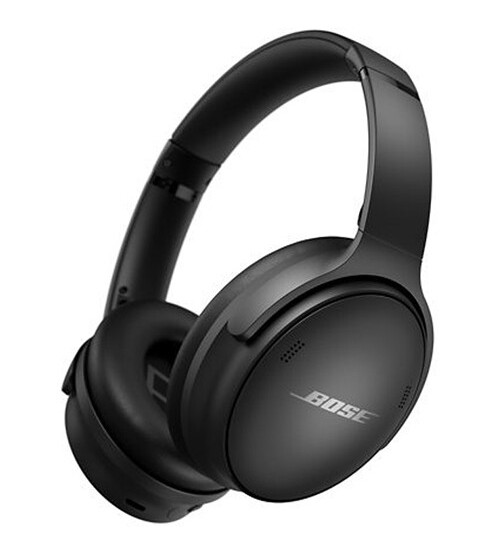 Lihat gambar lebih detail
Features
>> Active Noise Cancellation
>> Hear Your Surroundings with Aware Mode
>> Quad Microphone System with Beamforming
>> Up to 24 Hours of Battery Life
>> 15-Minute Quick Charge for 3 Hours
>> Multi-Point for Pairing to 2 Devices
>> Use Wired with Included AUX Cable
>> TriPort Headphone Structure
>> Volume-Optimized Active & Custom EQ
>> Built-In Circuitry for a Low Noise Floor
Aware Mode
When you need to be more in touch with the environment around you, activate Aware Mode to let the world back in. The external microphones take in ambient sound and feeds it directly to your ears. When you're not listening to music, the effect can make you forget that you're wearing headphones at all.
Quad Mics with Beamforming
An array of four microphones using beamforming technology help to focus on your voice during hands-free calls, eliminating noise and wind from being heard on the other end.
Long Battery Life
On a full charge the Bose QuietComfort 45 headphones can run for up to 24 hours. They only take up to 2 hours to recharge, but with a quick 15-minute charge you can enjoy up to 3 hours of audio.
Multi-Point
With support for multi-point technology, the QuietComfort 45 headphones can be paired with two devices simultaneously, letting you seamlessly switch between them as needed. Enjoy a game or movie on your tablet and immediately switch to your phone to take an incoming call.
TriPort Headphone Structure
Utilizing external ports and vents in the earcups, Bose's TriPort headphone structure increases the acoustic volume while maintaining an overall compact size.
SimpleSync
When you need to keep it quiet in the house but still want to enjoy your music or movies, you can use SimpleSync to more easily pair and stream audio to your QuietComfort 45 headphones from select Bose speakers and soundbars.
Customize Audio with EQ
The QuietComfort 45 headphones offer multiple EQ options for a more accurate and customized listening experience. Built-in volume-optimized active EQ will automatically adjust the EQ as you raise and lower the volume, preserving your bass level and keeping music clear, even at high volumes. In addition, the Bose Music app lets you can customize your own preferred bass, mid-range, and treble levels, or select one of Bose's preset EQ options.
Additional Features
>> Lightweight and durable glass-filled nylon and stainless steel construction
>> Electronic circuitry helps to keep a low noise floor
>> Works with the Bose Music app for customizing noise cancellation, downloading firmware updates, adjusting EQ, and more