Canon EF-S 10-22mm f/3.5-4.5 USM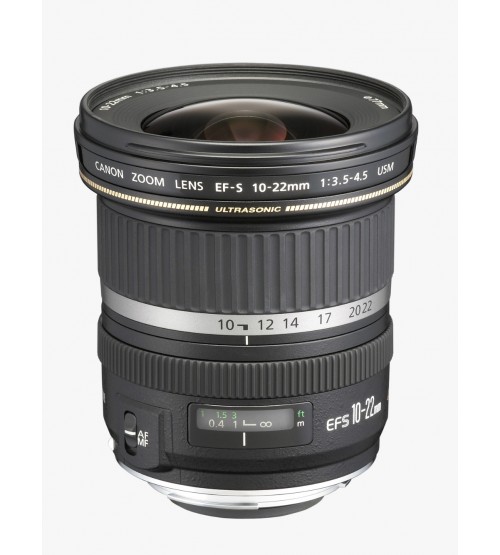 Lihat gambar lebih detail
Features
Canon, a leader in photographic and imaging technology, today announces the EF-S 17-85mm f/4-5.6 IS USM and EF-S 10-22mm f/3.5-4.5 USM wide-angle EF-S zoom lenses. Targeted at advanced digital photographers, both lenses are designed to work exclusively with Canon EOS 20D and EOS 300D digital SLR cameras. The focal length ranges of the respective lenses translates to 27-136mm and 16-35mm respectively in 35mm film format " a spread carefully chosen by Canon to reflect the needs of its rapidly growing base of advanced D-SLR photographers. Both lenses feature Canon ring-type Ultra Sonic Motors (USM) for fast, near-silent auto focus, and a range of features designed to deliver a level of image quality approaching that of Canon revered L-Series professional lenses.
Standard
Ideal for travel, mid-range nature/wildlife and general photography, the EF-S 17-85mm f/4-5.6 IS USM is a high quality, lightweight, all-purpose standard zoom lens. This 5x zoom lens offers the widest range of any lens in this class, and features Canon latest optical Image Stabilizer technology, providing up to 3-stop compensation for image blur caused by camera shake and slow shutter speeds. With superb quality suited to semi-professional use, the lens has a 17 element, 12 group construction, including one double-sided aspherical element for crisp, high contrast corner-to-corner detail.
Wide Angle
The EF-S 10-22mm f/3.5-4.5 USM is the market lightest and smallest 16-35mm (35mm equivalent) zoom lens available; ideal for landscape or indoor photography, or for photographers wishing to experiment with pan-focus and dramatic perspective effects. It also boasts a remarkably close focusing distance of just 24 cm. With similar high build quality to the EF-S 17-85mm f/4-5.6 IS USM, the EF-S 10-22mm f/3.5-4.5 USM includes a Super UD (ultra-dispersion) glass lens and two aspherical elements in its 13 element, 10 group construction. The non-rotating front element makes it ideal for use with filters such as polarizing and graduated, both of which are popular for the type of landscape photography for which the lens is suited.
EF-S mount
Both lenses feature Canon EF-S lens mount, matched to the EOS 20D and EOS 300D digital SLRs. The APS-C sized sensor of these cameras results in an effective multiplication factor of 1.6x the indicated focal length. While this creates an obvious advantage for telephoto lenses, it is less beneficial when meeting wide-angle requirements. To meet the needs of the new digital photographers, Canon developed the wide-angle EF-S lens mount. The EOS 20D and EOS 300D are both completely compatible with all existing EF lenses, while EF-S lenses only fit these two cameras. Optimized for Digital SLRs with APS-C size sensors, the EF-S mount enables economic wide-angle solutions often required by advanced photographers. The `S` in the EF-S nomenclature stands for the term short back focus. This describes the system that allows the rear lens element of EF-S lenses to be positioned closer than normal to the image sensor of APS-C sensor cameras. A white lens mount index differentiates the lenses from other EF lenses, which retain their traditional red marking. A rear rubber ring prevents any damage in the event that an inadvertent attempt is made to mount the lenses on non-compatible cameras.
Fast auto-focus
The ring-type USM motors found in both lenses employ ultra-sonic frequency vibrations to drive focussing with unrivalled speed. Canon ring-type USM holds the lens with precision and accuracy, the instant it arrives at the correct focus point and without overshoot. To further improve accuracy and speed, the drive patterns of both lenses are tailored to specifically match that of the EOS 20D and EOS 300D. Both lenses also feature full-time manual focus override without risk of motor damage.
Appealing background blur
The lenses both incorporate an EMD (electromagnetic diaphragm), which employs an almost perfectly circular barrel aperture. This helps create an attractive, even background blur when the photographer minimises depth of field to isolate a subject.
Perfect for digital photography
By optimising lens coatings, Canon engineers have been effective in suppressing flare and ghosting, which are more prone to occur with digital cameras due to reflection off the image sensor. Coatings reduce reflections off the lens surfaces to deliver crisp, undistorted digital images with natural colour balance.
Distant linked flash
Both lenses include new distance metering information, providing compatibility with the E-TTL II flash system of the EOS 20D. When used in conjunction with Canon range of EX Speedlite flash units, this allows for markedly improved flash exposure metering. An optional lens hood accessory is available for both lenses. In harmony with the environment In keeping with Canon stringent environmental policy, only lead free glass is used in the lens optics.
Canon EF-S 10 -22 mm lens specifications
| | |
| --- | --- |
| Image size | APS-C |
| Focal length | 10 - 22 mm |
| 35 mm FOV | 16 - 35 mm equiv. |
| Construction | 13 elements in 10 groups |
| Diaphragm | 6 blades |
| Maximum aperture | F3.5 - F4.5 |
| Minmum aperture | F22 - F27 |
| Closest focus | 0.24 m |
| Max magnification | 0.17x (at 22 mm) |
| Distance information | Yes |
| Image stabilizer | No |
| AF actuator | USM with full-time manual focus |
| Filter diameter | 77 mm |
| Dimensions | 83.5 x 89.8 mm (dia x len) |
| Weight | 385 g |
Technical
Warranty
PT Datascrip