Canon EF-S 60mm f/2.8 Macro USM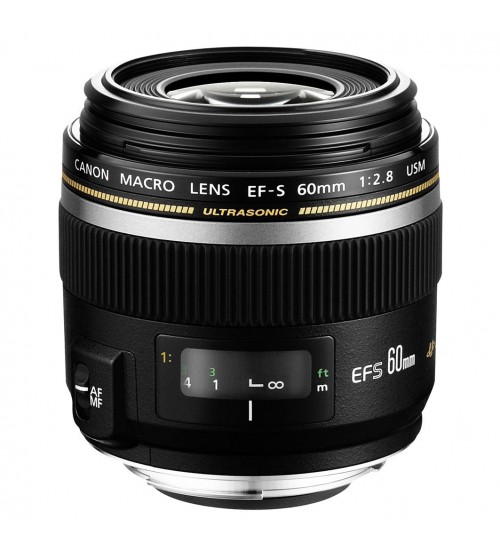 Lihat gambar lebih detail
Canon, a leader in photographic and imaging technology, today announces the EF-S 60mm f/2.8 Macro USM lens. Targeted at advanced and creative D-SLR photographers, the lens fits exclusively to those digital EOS cameras with an APS-C size sensor and an EF-S lens mount - the EOS 20D, EOS 300D and the new EOS 350D Digital. Featuring a true 1:1 macro magnification ratio, the lens has a focal length equivalent of 96mm in the 35mm format. This very closely matches the EF 100mm f/2.8 Macro USM, Canon most popular single focal length lens. The lens features Canon ring-type Ultra Sonic Motor (USM) for fast, near-silent auto focus, a new AF algorithm for improved focusing speed, a close focusing distance of just 0.2m and a range of optical features designed to deliver high levels of image quality.
EF-S mount
The APS-C sized sensor of the EF-S mount cameras to which the lens is matched gives these cameras an effective multiplication factor of 1.6x the indicated focal length " creating an obvious advantage for macro photography. The `S` in the EF S nomenclature stands for the term short back focus. This describes the system that allows for a smaller image circle and positioning of the rear lens element closer than normal to the camera mage sensor. A white lens mount index differentiates the lens from other EF lenses, which retain their traditional red marking. A rear rubber ring prevents any damage in the event that an accidental attempt is made to mount the lens on incompatible cameras.
Precision lens
The lens has a 12 element, 8 group construction, and a three group inner focus system that delivers crisp, high contrast corner-to-corner detail. An internal 3 group focusing system allows the lens length to remain fixed when the focus ring is turned. This makes it ideal for set ups where the lens is very close to foreground subject matter, and for use with Canon lens mounted macro flash systems; the MT-24EX and MR-14EX twin and ring flash units.
Fast auto-focus
The lens ring-type USM motor employs ultra-sonic frequency vibrations to drive focussing with unrivalled speed. Canon ring-type USM holds the lens with precision and accuracy, the instant it arrives at the correct focus and without overshoot. The lens drive algorithm has been enhanced to further improve focus accuracy and speed. The lens also features full-time manual focus override without risk of motor damage.
Appealing background blur
An EMD (electromagnetic diaphragm) barrel aperture helps to create attractive, even background blur when the photographer minimises depth of field to isolate a subject. This combines with the 60mm focal length to suit the lens perfectly to portrait photography.
Perfect for digital photography
By optimising Super Spectra lens coatings, Canon engineers have been effective in suppressing flare and ghosting, which are more prone to occur with digital cameras due to the relatively reflective nature of image sensors. By absorbing light, coatings reduce reflections off lens surfaces to deliver crisp, undistorted digital images with natural colour balance.
Distant linked flash
The lens passes distance information to the camera body, to provide compatibility with the E-TTL II flash system of the EOS 20D and EOS 350D Digital. When used in conjunction with Canon range of EX Speedlite flash units, this allows for markedly improved flash exposure metering. An optional lens hood accessory is available. The EF-S 60mm f/2.8 Macro USM can be used with the Canon extension tubes EF 12 II and EF 25 II for even closer focusing and larger than life images. In harmony with the environment, In keeping with Canon stringent environmental policy, only lead free glass is used in the lens optics.
Magnification with EF 25 II

1.61 - 0.44

Magnification with EF12 II

1.28 - 0.20

Weight

335 g (11.8 oz)

Dimensions (dia x len)

73 x 69.8 mm (2.9 x 2.8 mm)

Filter diameter

52 mm

AF actuator

USM

Image stabilizer

No

Distance information

Yes

Maximum magnification

1

Closest focus distnace

20 cm (7.9 in)

Minimum aperture

F32

Diaphragm blades

7

Lens construction

12 elements in 8 groups

35 mm equiv. FOV

Same as 96 mm lens (approx.)

Angle of view

Horiz: 20° 40`
Vert: 14° 10`
Diagonal: 24° 30`
Technical
Warranty
PT Datascrip