Canon EOS C200 Kit 24-105mm Cinema Camera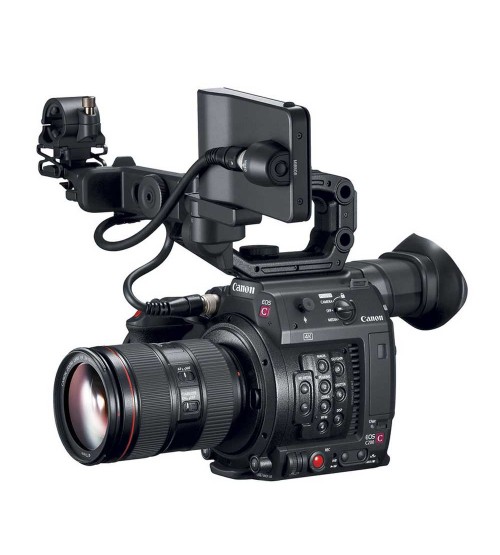 Lihat gambar lebih detail
PRODUCT HIGHLIGHTS
· Super 35mm CMOS Sensor
· Dual Pixel CMOS AF Technology
· Dual DIGIC DV 6 Processors
· 4K DCI and UHD, 1920 x 1080
· 59.94p, 50p, 29.97p, 25p, 24p, 23.98p
· Canon RAW Light, MP4, MP4 Proxy
· Integrated EVF, 2 x XLR Audio Inputs
· Rotating 4" LCD Monitor, Camera Grip
· 1 x CFast Card, 2 x SD Card Slots
· 1 x SDI Output, 1 x Ethernet Connector
This kit from Canon includes the EOS C200 EF Cinema Camera and the Canon EF 24-105mm f/4L IS II USM Lens. This pairing creates a versatile digital cinema production kit. The camera is capable of capturing and recording DCI 4K internally as Canon's Cinema RAW Lite via a CFast 2.0 slot. Two built-in SD card slots enable recording 4K UHD and Full HD as MP4. The included accessories include a handgrip, 4" touch screen LCD viewfinder, which supports "Tap Focusing" and compliments the camera's built-in EVF.
The 24 to 105mm zoom lens covers full frame sensors, so it will not vignette on the Super-35mm-sized sensor of the C200. The lens features a ring-type Ultrasonic Motor AF system and built-in optical image stabilization. You can manually override the auto focus in any AF mode, and the 10-blade iris creates natural looking out of focus highlights. Dust- and water-resistant construction protects the lens and your images.
Canon's EOS C200 EF Cinema Camera features a built-in EVF, 4" LCD screen, top handle, Super 35mm CMOS sensor, and Dual Pixel Autofocus. The EF lens mount on the EOS C200 offers compatibility not only with Canon's existing broad range of DSLR lenses but also with their line of EF-mount CN-E cinema prime and zoom lenses. The Super 35mm sensor is paired with Canon's Dual DIGIC DV 6 image processor, allowing it to capture and record up to 4K DCI resolution.

The C200 can also record Canon's Cinema RAW Light internally via its single CFast card slot. The camera also incorporates two SD card slots for recording 4K UHD/HD MP4 video. A built-in EVF enables the camera to maintain a small footprint when you shoot. However, the included removable 4" LCD screen as well as the included top handle and camera grip make this camera at home on larger shoots. You can output video via the camera's SDI output, and the built-in XLR connectors provide two channels of audio at line, mic, and mic+48V level. A built-in Ethernet connector provides input/output control.
Main Features
Canon Super 35mm CMOS Sensor
Modeled on the Super 35mm motion picture film standard, the Canon CMOS sensor has an active image size of 24.4 x 13.5mm. It features 4096 x 2160 resolution to deliver Cine 4K images, as well as supporting Ultra HD (3840 x 2160), and Full HD (1920 x 1080).
Dual Pixel CMOS AF Technology
Provides continuous AF (Autofocus) function for all autofocus lenses, using Dual Pixel CMOS AF technology. A new AF Lock setting also lets you change the image framing while holding the desired focus. This feature is ideal for users who regularly shoot with smaller crews, who shoot moving subjects, or who want smoother, more natural-looking autofocus.

Dual Pixel CMOS AF technology features a CMOS sensor that consists of an array of pixels that each feature two separate photodiodes. By continuously comparing their outputs during AF mode, phase-difference autofocus helps ensure non-blurred images and smooth focus transitions even when the talent and/or camera are moving. The new feature places a high priority on maintaining sharp focus while providing a natural, smooth autofocus movement with select Canon EF lenses - including newer-generation STM lenses - which offer even smoother and quieter operation.
Dynamic Range, ISO Range
The C200 features a dynamic range of approximately 13 stops, and an ISO range of 160 to 25,600. You can also select an expanded ISO range of 100 to 102,400. It supports Wide DR Gamma, Canon Log and Canon Log 3.
Dual Canon DIGIC DV 6 Image Processor
The camera features Dual DIGIC DV 6 processors to handle the internal data processing.
Ultra-High-Resolution EVF
The EOS C200 features a built-in 0.46", 1.23 MP color EVF and 100% field of view coverage for comfortable viewing and accurate judgment of composition, focus, and color. The angle of the viewfinder is adjustable for additional user comfort.
4" LCD Touch Screen Camera Grip and Top Handle
Included with the C200 is a removable 4" Touch Screen LCD viewfinder. Also included with the C200 is a camera control handgrip as well as a removable top handle.
Rich Audio Controls
Built directly into the C200 are two XLR audio inputs with +48V phantom power, and a 3.5mm microphone terminal is also built into the camera. Audio is recorded uncompressed in 16-bit PCM format at 48 kHz for high fidelity sound. Both XLR inputs as well as the mic terminal have the option for automatic as well as manual gain control.
Canon Cinema RAW Light
This codec allows you to record raw data internally to a CFast 2.0 card via the camera's single CFast card slot. The CFast card slot enables capturing 4K DCI in Canon's Cinema RAW Light format.
MP4 Recording
· 4K UHD and Full HD recording onto SD cards is available via the two SD card slots.
· Slow motion recording, pre-recording, frame recording, interval recording
Recording Functions
Relay recording, double slot recording
High-Speed Shooting
You can choose to record at 120/100p when recording in Full HD.
White Balance
· AWB
· Kelvin setting (setting range: 2000K to 15000K/-20CC to +20CC)
· Daylight
· Tungsten
· Set A
· Set B
Other Recording Functions
· Custom picture setting
· Black balance adjustments
· Color bars
· Peaking display
· Zebra display
· My Menu setting
· Waveform monitor display
· Assignable buttons (1-17)
· Key lock
· Marker display
· Enlarged display
· Custom display
· Peripheral illumination correction
· GPS support (GP-E2)
· Monaural microphone
Playback Operations
Normal playback, fast forward (at speeds of ×5, ×15, ×60), fast reverse (at speeds of ×5, ×15, ×60), frame forward, frame reverse, rec review
Clip Display
3x4 (clip) index screen (raw/MP4/Photo)
EF 24-105mm f/4L IS II USM Lens
If you could only have one lens, many photographers would pick the upgraded EF 24-105mm f/4L IS II USM Lens from Canon due to its exceptionally versatile zoom range from wide-angle to short telephoto, a constant f/4 aperture, and an outstanding build quality befitting an L-series lens. This version II of the popular lens makes improvements to image quality through the use of a new optical design with four glass-molded aspherical elements, which helps to limit vignetting in your images. Also, it uses an Air Sphere Coating to reduce ghosting and flaring.
A ring-type Ultrasonic Motor AF system provides fast and accurate autofocus while built-in optical image stabilization can help compensate for about 4 stops of shutter speed, minimizing the effects of camera shake. This lens also offers a zoom lock switch to prevent lens creep when not actively in use as well as an internal focus system. Full-time manual focus override is available for making adjustments regardless of the AF mode. Additionally, it has a rounded 10-blade aperture diaphragm for smooth out of focus elements.
As with all L-series lenses, this optic has a dust- and water-resistant construction thanks to numerous seals that prevent intrusion when working in inclement weather. It also uses a fluorine coating on the exposed front and rear elements to help prevent smudges and to make cleaning easier.
· Offering a versatile zoom range of 24-105mm, this L-series lens is a staple of many shooters' kits. This updated version offers improved image quality, with a notable enhancement in peripheral brightness.
· Designed for use with full-frame DSLRs, this optic is compatible with APS-C format cameras as well where it will provide a 38.4-168mm equivalent focal length range.
· Constant f/4 maximum aperture offers consistent performance and light transmission throughout the zoom range.
Technical
Pixel
9.84 MP
Sensor Type
CMOS
Display Size
4''
Battery
14.4 VDC (battery pack)
Warranty
-