Cerevo LiveShell X Live Streaming and Broadcasting Device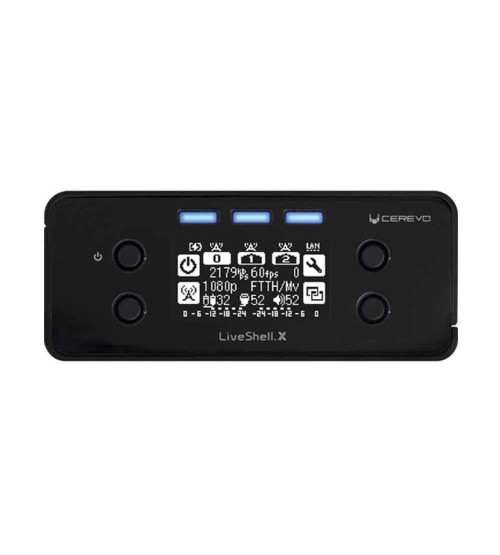 Lihat gambar lebih detail
Cerevo USA LiveShell X
PRODUCT HIGHLIGHTS
·Wireless Video and Audio Streaming
·HDMI and Analog Audio Inputs
·Transmits up to 1080p60
·OLED Status Display
·H.265 and H.264 Encoding
·Wired and Wireless Network Connections
·Record to microSD Cards
·Compact Housing
·Rechargeable Battery
·Works with Popular Streaming Platforms
Stream to the web without a computer by encoding with the Cerevo LiveShell X. Leveraging the efficient H.265 encoding format, high-quality HD videos can be streamed using less bandwidth compared to the H.264 standard. And with support for 1080p resolution at 60 fps, broadcast quality video is within reach. Simply connect your HDMI camera or video-enabled device, set up the LiveShell X, and you're ready to stream.
Ethernet and USB ports allow for streaming directly over a wired connection, or using wireless networks with a separately available Wi-Fi USB dongle. Another option is to record H.264 or H.265 video straight to a microSD card. Recording can be done simultaneous to streaming, so you can have a hard copy ready for distribution at the end of the event. Despite its prowess, the LiveShell X is compact, battery-powered, and can be mounted directly on a camera using the multiple integrated mounting points.
H.265 Encoding
LiveShell X supports streaming at up to 1080p60, enabling you to stream broadcast-quality video. In addition, with support for the H.265 video codec, you can broadcast the same quality video as H.264 at a reduced bit rate or using the same bit rate as H.264 with increased video quality. LiveShell X can also use H.264 encoding to ensure compatibility with existing streaming services.
Streaming Platform Support
Many streaming platforms, including Ustream, YouTube Live, Twitch, Akamai, and Wowza, are supported immediately out of the box. You can also do live streaming through your own server, if your server supports RTMP broadcasting. LiveShell X has been tested to work on the following services:
· Ustream
· Niconico Live
· YouTube Live
· TwitCasting
· Facebook
· FRESH! by AbemaTV
· SHOWROOM
· J-Stream
· Wowza
· Akamai
· Twitch
Multi-Streaming
The multi-streaming function enables you to stream to up to three services simultaneously (depending on current resolution settings). You can also broadcast multiple streams to one streaming service at different bit rates.
Real-Time Stream Recording
LiveShell X can record directly to a microSD card to make a backup copy of your broadcast or to record an event for later broadcasting. If you use LiveShell X as a standalone recorder (without streaming), 1080p60 Full-HD video can be recorded. LiveShell X will record the final stream output, creating an exact copy of your broadcast including any on-screen logos or lower third graphics added via Dashboard.
Built-In Rechargeable Battery
Use the built-in rechargeable battery to operate LiveShell X for up to six hours. Automatic power switching ensures that if the AC adapter is disconnected while live streaming, LiveShell X will switch to battery power automatically without interrupting the broadcast.
Durable Construction
While constructed from metal, LiveShell X is compact and lightweight. It also features M4 and 1/4"-20 mounting options, so LiveShell X can be attached to cameras using a shoe mount, giving you a portable all-in-one filming, recording, and broadcasting solution.
Monitor Output
Using free VLC software for your computer or tablet, you can view your live streaming or recorded video in near-real time. The front panel OLED display shows streaming status and audio levels, while the three top LED buttons change color to alert you of any issues with streaming output.
Dashboard Control
Using LiveShell X's web-based control panel, Dashboard, beginners and professionals alike can control video quality, audio level, bit rate, and cue timing. Since Dashboard is browser-based, users can remotely control LiveShell X from basically any smartphone, tablet, or PC with an internet connection.
Lower Thirds and Screen Graphics Support
Using Dashboard you can add subtitles, logos, and graphics to your live streaming via the easy-to-use interface. LiveShell X supports transparent PNG files for polished on-screen graphics.
Local Mode
With local mode, LiveShell X can broadcast to a closed local network without the need to connect to an external server. Broadcast video or audio securely over your corporate network, or use RTSP mode and LiveShell X can function as your exclusive local streaming server without having to build or purchase your own media server.
Technical
Warranty
1 Year Service & Spareparts