Fujifilm GFX 50S Medium Format Mirrorless Camera (Body Only)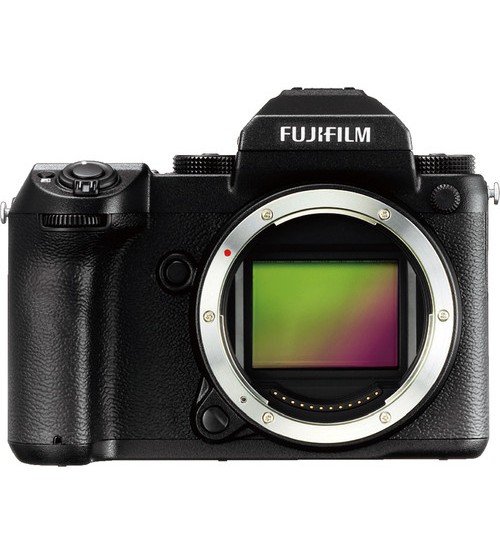 Lihat gambar lebih detail
PRODUCT HIGHLIGHTS
- 51.4MP 43.8 x 32.9mm CMOS Sensor
- X-Processor Pro Image Processor
- Removable Electronic Viewfinder
- ISO 100-12800
- Focal Plane Shutter, Up to 1/4000 sec.
- Top Settings LCD Monitor
- Multi Aspect Ratio Shooting
- Weather-Sealed Construction
- Tethered Shooting Support


This item is still in development and specifications are subject to change. Please read the following official press release from the manufacturer which contains additional information. We will update this item as soon as more information becomes available.

Fujifilm Announces Development of Medium Format Mirrorless GFX System

Photography News: Fujifilm has announced the GFX medium format mirrorless system, expected early 2017, to include GFX 50S body and six lenses.

B&H is pleased to share Fujifilm's announcement of the new GFX medium format mirrorless camera system, which is expected to be available in early 2017, and comprise the camera body itself along with six different lenses. The GFX 50S houses a 51.4MP 43.8 x 32.9mm CMOS sensor, which is configured to output several aspect ratios used in traditional film photography: 4:3 (native format), 3:2, 1:1, 4:5, 6:7, and 6:17. The sensor's performance is complemented by an X-Processor Pro in order to maintain distinct and accurate color and tonal renditions, along with the depth and clarity afforded by the larger sensor area. The camera's physical design is also reminiscent of past modular medium format cameras, and features a removable electronic viewfinder that can be tilted through the use of an optional adapter. It is weather sealed and supports working in temperatures down to 14°, and the body also supports tethered shooting for working in studio situations. Additionally, an optional Vertical Battery Grip will also be available for longer continuous battery life and improved handling when shooting in the vertical format.

Announced alongside the camera body is a new lens system, along with a new lens mount. The G-mount is dedicated to the mirrorless camera design and features a short flange focal length of 26.7mm for a compact overall profile, along with the ability to maintain even sharpness and illumination. Using this new mount, Fujifilm has announced six lenses to be released over the course of 2017: the GF 63mm f/2.8 R WR, which is a standard prime 50mm equivalent lens; the wide-to-normal zoom GF 32-64mm f/4 R LM WR, which offers a 25-51mm equivalent focal length; the mid-tele 2:1 macro GF 120mm f/4 Macro R LM OIS WR, which has a 95mm equivalent focal length; the GF 23mm f/4 R LM WR, which is an 18mm equivalent ultra-wide; and the standard wide-angle 35mm equivalent GF 45mm f/2.8 R WR lens.
Technical
Pixel
51.4 MP
Warranty
1 Year Service & Spareparts