Fujifilm X-T10 Body Only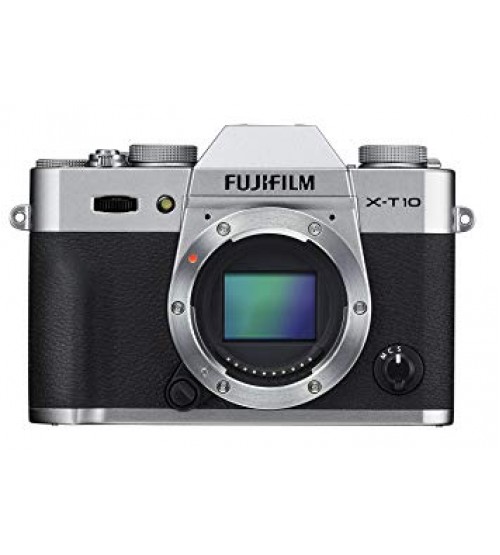 Lihat gambar lebih detail
16.3 MP APS-C X-Trans CMOS II Sensor
A large 16.3 MP APS-C CMOS image sensor is integrated into the X-T10 to provide high image quality and detail. Using Fujifilm's unique X-Trans pixel array, the sensor is designed with a randomized pixel pattern to eliminate the need of an optical low-pass filter for reducing moiré and aliasing. By removing this filter from the design, higher image sharpness is possible. Lens Modulation Optimizer (LMO) factors are also taken into account using the EXR Processor II, which helps to automatically compensate for aberrations and diffraction blur in order to produce images with the utmost inherent sharpness.

The X-Trans sensor also works to provide highly effective noise reduction and a clean signal-to-noise ratio. This enables smoother-looking imagery that becomes especially apparent when photographing in low-light situations with an expanded sensitivity range of ISO 100-51200. Additionally, a top continuous shooting rate of 8 fps is possible for up to 8 consecutive frames, as well as a 3 fps shooting rate for the capacity of an SD card, to benefit working with moving subject matter.
EXR Processor II
Aside from benefitting low-light performance, the EXR Processor II also provides quick performance throughout the entire camera system. The camera start-up time is about 0.5 seconds, shutter lag is about 0.005 seconds, shooting interval time is about 0.5 seconds, and an electronic shutter feature allows you to use shutter speeds up to 1/32000 sec. A fast autofocus performance speed of 0.06 seconds is also enabled with the advanced Intelligent Hybrid AF system using both contrast- and phase-detection focusing methods.
Intelligent Hybrid AF
Intelligent Hybrid AF is a quick, responsive autofocus system that employs both contrast- and phase-detection methods to acquire focus in as little as 0.06 sec. in a wide variety of lighting conditions and shooting situations. Additionally, pairing with the fast continuous shooting rate, AF-C can be used when shooting at 8 fps with advanced subject motion prediction to maintain sharp focus on moving subjects. Six autofocus modes are available for greater control over how the X-T10 achieves sharp focus:

AF-S + Single Point: A highly accurate focusing mode that allows you to choose one of 49 focus points, with a choice of five different area sizes, for basing your focus on a specific subject.
AF-S + Zone: This mode is ideal for subjects moving at a moderate pace or other instances where single-point focus may have difficulty tracking the subject. 3 x 3, 5 x 3, and 5 x 5 areas are available, as well as centrally-positioned 3 x 3 and 5 x 3 phase-detection areas for faster AF speeds.
AF-S + Wide/Tracking: For random and quickly moving subjects, this mode uses the entire 77-point focusing area to acquire focus on multiple subjects or subjects with unpredictable movements.
AF-C + Single Point: For photographing a subject with a fixed direction of movement, this mode allows you to choose one of the 49 points, along with an area size, to prioritize and maintain sharp focus as the subject travels across the frame or towards the camera.
AF-C + Zone: When shooting handheld, this mode lets you choose from 3 x 3, 5 x 3, or 5 x 5 areas, as well as the central phase-detection points, for tracking moving subjects.
AF-C + Wide/Tracking: Suitable for photographing from a tripod, this mode is well-suited to photographing unpredictably moving subjects by choosing the starting point in the frame and allowing the AF-C to maintain focus as the subject moves about the frame.
Real Time Viewfinder
An advanced electronic viewfinder has been incorporated into the X-T10's design to support clear eye-level monitoring along with a host of unique viewing features to better support a more efficient overall workflow. The Real Time Viewfinder is comprised of a 2.36m-dot OLED display and features a high magnification of 0.62x. This broad perspective is further complemented by the 0.005 sec. lag time, which smoothly and seamlessly renders scenes and moving subjects. To further enhance the viewing capabilities in difficult lighting conditions, Natural Live View can be utilized to display an image quality similar to as if working with an optical viewfinder, or, conversely, the viewfinder can also be configured to preview the effects of Film Simulation modes or other settings in real-time to alleviate the need to check photos after each shot.
Body Design
Characterized by a body design reminiscent of an SLR film camera, the X-T10 features both analog exposure controls with intelligent automated technologies and a quick-selection drive dial. The clean and functional body design incorporates physical shutter speed, drive mode, and +/- 3 EV exposure compensation milled aluminum alloy dials that pair well with the manual aperture rings found on many of the XF lenses for intuitive exposure setting selection as well as full use of P/A/S/M exposure modes. For a more automated workflow, a dedicated Auto Mode Switch Lever is located on the top plate for selecting a fully automated shooting mode (SR AUTO) without worrying about exposure settings.

Depending on individual needs, dual command dials and an easily-accessible Q Menu provide an efficient solution for modifying some of the most frequently used camera settings, such as ISO, white balance, and file settings. For more extensive menu navigation, as well as live view monitoring and image review, a 3.0" 920k-dot LCD monitor is available and features a tilting design to better support working from high and low angles.

Additionally, a built-in pop-up flash is available to provide extra illumination when photographing in difficult lighting conditions and a top hot shoe can also be used for pairing an optional external flash for greater, more controllable flash output.
Full HD Movie Recording
Full HD 1080p video recording is supported up to 60 fps, with other frame rates and formats also available. Full-time AF tracking is available during recording with subject tracking capabilities for ensured sharpness when either the subject is moving or if the camera is moving, panning, or zooming. +/- 2 EV exposure compensation is available during recording as well as the use of Film Simulation settings.

An HDMI port enables high definition playback of movies to an HDTV and the inclusion of a 2.5mm input supports the use of an optional external microphone for enhanced sound quality.
Built-In Wi-Fi
Wireless connectivity is built into the camera and allows for instant sharing of images directly to an Android or iOS mobile device. The Fujifilm Camera Remote app allows you to browse the image contents of your camera from your mobile device and transfer both videos and photos, and the entire sharing process is further expedited by simply pressing and holding the dedicated Wi-Fi button to begin transferring immediately. Remote camera control and monitoring is also supported through the use of the app, which enables Touch AF, shutter release, exposure settings adjustment, Film Simulation modes, white balance modes, macro, timer, and flash controls to all be adjusted from the linked mobile device. Location data can also be embedded into image file's metadata for geotagging.
Film Simulation Modes and Advanced Filters
Taking advantage of Fujifilm's vast history in traditional film-based photography, the X-T10 integrates several Film Simulation modes to mimic the look and feel of some Fujifilm's classic film types. A refined Classic Chrome mode is designed to deliver muted tones and a deep color reproduction, similar to that of a dated slide film. Pulling from their more contemporary line of transparency films, Provia offers natural-looking tones for everyday shooting, Velvia produces a more dramatic and rich tonality with deeper color saturation, and Astia gives less contrast for a softer depiction of skin tones. Mimicking their negative films, Pro Neg. Std. gives smooth image tones that are suitable for accurate color renditions, while Pro Neg. Hi produces a more dramatic feel with the ability to draw color out of a variety of lighting conditions. In addition to the colorful benefits of these Film Simulation modes, there are also monochrome modes that simulate the look of traditional yellow, green, and red black and white contrast filters. A sepia mode is also available for producing an inherently nostalgic look.

Eight Advanced Filters are also available to creatively enhance the look of imagery, and include: High Key, Low Key, Soft Focus, Toy Camera, Miniature, Pop Color, Dynamic Tone, and Partial Color (Red, Orange, Yellow, Green, Blue, Purple).
Other Camera Features
An in-camera RAW converter lets you record your images as RAF files and process them prior to computer-based editing procedures. This process enables you to modify the exposure, white balance, and other controls directly through the menu interface.
Interval shooting is possible with intervals of 1 second to 24 hours for up to 999 frames.
Multiple exposure mode gives you the ability to overlay imagery in-camera. When working in this mode, subsequent exposures can be paired and the final appearance can be previewed on the LCD or in the EVF before making the final exposure.
A dedicated Panorama mode allows you to record expansive views either 180° or 120° wide in a seamless, sweeping manner.
Five different auto bracketing modes are available: Dynamic Range, Film Simulation, AE, white balance, and ISO Sensitivity.
The included NP-W126 battery enables approximately 350 frames to be recorded per charge.



Imaging

Pixels
Actual: 16.7 Megapixel
Effective: 16.3 Megapixel

Focus

Focus Mode

Continuous-Servo AF (C), Manual Focus (M), Single-Servo AF (S)

Autofocus Points
Contrast Detection: 77
Phase Detection: 15

Viewfinder/Display

| | |
| --- | --- |
| Viewfinder Size | 0.39" |
| Viewfinder Resolution | 2,360,000 Dot |
| Viewfinder Eye Point | 17.5 mm |
| Viewfinder Coverage | 100% |
| Viewfinder Magnification | Approx. 0.62x |
| Diopter Adjustment | -4 to +2 |

Exposure Control

Metering Method

Average, Multiple, Spot

White Balance

Automatic Scene Recognition, Color Temperature, Custom, Fine, Fluorescent (Cool White), Fluorescent (Daylight), Fluorescent (Warm White), Incandescent, Shade, Underwater

Continuous Shooting
Up to 8 fps at 16.3 MP for up to 8 Exposures
Up to 3 fps at 16.3 MP for up to Exposures

Flash

| | |
| --- | --- |
| Flash Modes | Auto, Auto/Red-Eye Reduction, Commander, Commander/Red-Eye Reduction, Forced On, Forced On/Red-Eye Reduction, Rear Curtain Sync/Red-Eye Reduction, Rear Sync, Slow Sync, Slow Sync/Red-Eye Reduction, Suppressed Flash |
| External Flash Connection | Hot Shoe |

Power

Battery

1 x

NP-W126 Rechargeable Lithium-Ion, 7.2 VDC, 1260 mAh

Packaging Info

| | |
| --- | --- |
| Package Weight | 2.55 lb |
| Box Dimensions (LxWxH) | 7.9 x 7.5 x 4.3" |
Technical
Warranty
1 Year Service & Spareparts