Garmin Forerunner 55 GPS Running Smartwatch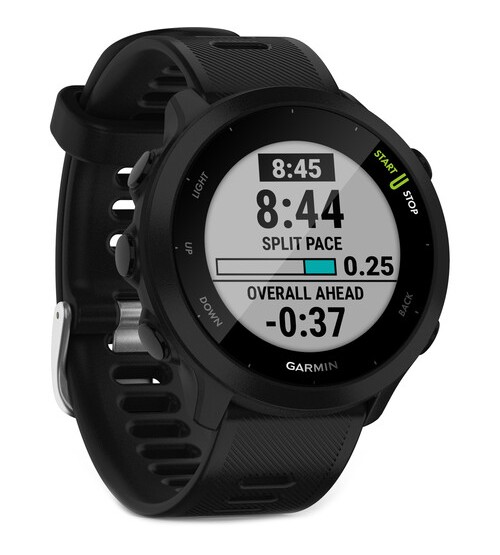 Lihat gambar lebih detail
>> Built-In GPS for Run & Walk Tracking
>> Improve Running Form with Cadence Alerts
>> Up to 2 Weeks Battery Life
>> Wrist-Based Heart Rate Monitor
>> Water Resistant Up to 164'
>> 1.04" Color Sunlight-Visible MIP Display
>> Stress & Respiration Tracking
>> Women's Health Tracking
>> Smartphone Music Control
>> Receive Emails, Texts & Alerts
Running Features
Daily Suggested Workouts
: Get personalized, daily run recommendations of varying intensities based on your training history, fitness level, and recovery time
PacePro
: Get GPS-based pace guidance for a selected course or distance in the Garmin Connect app, helping you prepare for upcoming runs and races
Finish Time
: Select a distance for a run and this feature will show you your estimated finish time
Track Run
: This feature records accurate lap distances when running on the track, showing you your distance in meters
Cadence Alerts
: Improve your running form with this feature. You'll get alerts when you've gone outside your target cadence range when you run
Race Predictor
: Taking into account your fitness level and training history, this feature helps you work towards your racing goal by showing the impact of your training on your predicted finish time
Made for Fitness
The lightweight construction is combined with a lightweight and durable silicone band, which helps to keep the Forerunner 55 from feeling uncomfortable.
Built-In GPS
Track your routes and gain accurate metrics, such as time, distance, pace, and intervals.
Garmin Coach
Adaptive training plans gives you guidance from expert coaches, along with free training plans that adapt to you and your fitness goals. The workouts sync to the Forerunner 55 via the Garmin Connect app.
Recovery Advisor
After each workout, this feature will let you know how long to rest before another workout.
Sports Apps
Additional built-in sports apps help you track other activities, such as virtual running, pool swimming, Pilates, HIIT, breathwork, and more.
Long Battery Life
On a full charge, you get up to 2 weeks of battery like in smartwatch mode, or up to 20 hours in GPS mode.
Fitness Tracking
The Forerunner 55 can track you throughout your entire day, giving you metrics on basic activities like steps taken and earned intensity minutes (from any moderate and vigorous physical activity).
Stress Tracking
Utilizing the heart rate monitor, the Forerunner 55 can tell if you're having a calm, balanced, or stressful day. When stressed, relax reminders prompt you to do a short breathing activity to help calm you.
Body Battery Energy Monitoring
Track your body's energy levels so you know when the best time is to rest or exercise.
Fitness Age
Using a combination of your chronological age, resting heart rate, and other factors, this feature estimates if your body's condition is younger or older than you actually are.
Respiration Tracking
Throughout the day, while sleeping at night, and during breathwork activities, this feature lets you know how well you're breathing.
Women's Health Tracking
Combined with the Garmin Connect app, women can use the Forerunner 55 to track their menstrual cycle or pregnancy. You can log symptoms, get exercise and nutrition education, and more.
Smart Notifications
Receive emails, texts, and alerts on your wrist when the Forerunner 55 is paired with your compatible smartphone.
Safety & Tracking Features
If you feel unsafe or if the Forerunner 55 senses that an incident has occurred, it can send a message with your current location to your emergency contacts.
Connect IQ Store
Personalize your Forerunner 55 to your own style by downloading custom watch faces. You can also add new data fields and install additional apps.
Music Control
When paired with your smartphone, you can use the Forerunner 55 to control music playback.
Syncs with Garmin Connect
Activities can be updated to the Garmin Connect app, where you can connect with an online community of people to share and compete. You can also share your achievements on various social media platforms.
Additional Features
1.04" color, sunlight-visible, transflective MIP display
Up to 164' of water resistance
Stores up to 200 hours of activity data
Clock Features
Time/date
GPS time sync
Automatic daylight savings time
Alarm clock
Timer
Stopwatch
Sunrise/sunset times
Health Monitoring
Wrist-based heart rate (constant, every second)
Daily resting heart rate
Abnormal heart rate alerts (high and low)
Respiration rate (24x7)
Fitness age
Body Battery energy monitor
All-day stress
Relaxation reminders
Relaxation breathing timer
Sleep (advanced)
Hydration (in Garmin Connect and optional Connect IQ widget)
Woman's health
Sensors
GPS
GLONASS
Galileo
Garmin Elevate wrist heart rate monitor
Accelerometer
Daily Smart Features
Connectivity
Connect IQ (downloadable watch faces, data fields, widgets, and apps)
Smart notifications
Calendar
Weather
Controls smartphone music
Find my phone
Find my watch
Smartphone compatibility (iPhone & Android)
Pairs with Garmin Connect mobile
Safety & Tracking Features
LiveTrack
Live event sharing (Android only)
Incident detection during select activities
Assistance
Activity Tracking Features
Step counter
Move bar (displays on device after a period of inactivity; walk for a couple of minutes to reset it)
Auto goal (learns your activity level and assigns a daily step goal)
Calories burned
Distance traveled
Intensity minutes
TrueUp
Move IQ
Gym & Fitness Equipment
Available gym activity profiles (Cardio and elliptical training, stair stepping, HIIT, Pilates & yoga)
Training, Planning & Analysis Features
HR zones
HR alerts
HR calories
Recovery time
Auto Max HR
HR broadcast (broadcasts HR data over ANT+ to paired devices)
Respiration rate (during exercise) (yoga and breathwork only)
GPS speed and distance
Customizable data pages
Customizable activity profiles
Auto pause
Interval training
Advanced workouts
Downloadable training plans
Auto lap
Manual lap
Configurable lap alerts
VO2 Max (run)
Improved recovery time (Limited)
Daily suggested workouts (Limited)
Audio prompts
Finish time
Touch and/or button lock
Activity history on watch
Physio TrueUp
Running Features
Available run profiles (Running, treadmill running, track running, indoor track running, virtual running)
GPS-based distance, time, and pace
Cadence (Provides real-time number of steps per minute)
PACEPRO pacing strategies
Run workouts
Race predictor
Foot pod capable
Outdoor Recreation
Area calculation (via Connect IQ)
Hunt/fish calendar (via Connect IQ)
Sun and moon information (via Connect IQ)
Cycling Features
Alerts (Triggers alarm when you reach goals including time, distance, heart rate, or calories)
Available cycling profiles (Biking, indoor biking)
Speed and cadence sensor support (w/sensor)
Swimming Features
Available swim profiles(pool swimming)
Pool swim metrics (lengths, distance, pace, stroke count, swim efficiency (SWOLF), calories)
Stroke type detection (freestyle, backstroke, breaststroke, butterfly) (pool swim only)
Drill logging (pool swim only)
Basic rest timer (up from 0) (pool swim only)
"Repeat on" rest timer (pool swim only)
Auto rest (pool swim only)
Time and distance alerts
Countdown start (pool swim only)
Underwater wrist-based heart rate
Technical
Warranty
1 Year Service & Spareparts