Meike Mount Adapter For EF-EOS M MK-C-AF4 CAF4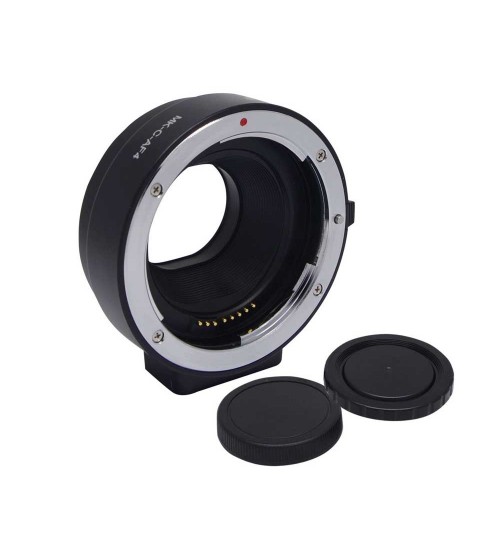 Lihat gambar lebih detail
An exciting opportunity for any Canon EOS M user who has recently taken the plunge from the larger Canon DSLR format, is this Meike AF lens Adaptor. This particular adaptor allows you to use EF & EF-S Lenses on EOS M cameras, opening up a whole new range of lenses, which brings a world of possibility and versatility into the picture. Put those macro, Telephoto and wide angle lenses to use again, thanks to this lightweight, fully-functional adaptor.
· EF/EF-S to EOS M adapter
· Autofocus and other features retained
· Compact & Lightweight
· Add a whole new level of versatility to your kit
· Comes with removable tripod mount
Add exceptional versatility to your EOS-M Kit
With the help of this AF Lens adaptor from Meike, your much-loved EF and EF-S Canon lenses no longer need to sit on the shelf gathering dust. Whether you have recently made the move over to the smaller EOS-M format, or you are planning on taking that plunge in the near future, this EF/EF-S to EOS-M lens adapter will ensure your favourite lenses that have served you well over the years, will not go to waste. Add to your Canon EOS-M kit some of the most popular Macro, Wide-Angle and Telephoto lenses available, thanks to this Meike AF lens adaptor.
Compact and lightweight, well suited to the EOS-M
This Meike AF lens adaptor has been created in a compact and lightweight form, in order to not feel out of place on the front of your Canon EOS-M camera and to ensure your kit remains as portable as possible, as you put your EF & EF-S lenses to use. A tripod mount is included in order to add stability when using longer lenses, but it can be removed if you want to keep things as light as possible. Fully functional with the whole spectrum of EF and EF-S lenses, this lens adapter virtually lays the entire extensive EOS lens range at your feet.
Technical
Warranty
Non Warranty