Nikon 55mm f2.8 Micro Nikkor Lens A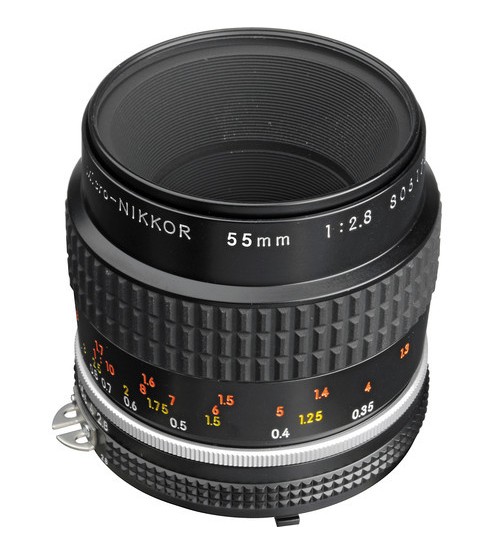 Lihat gambar lebih detail
Features
>> F-Mount Lens/FX Format
>> Aperture Range: f/2.8 to f/32
>> 1:2 Magnification, 9.8" Minimum Focus
>> Close Range Correction System
>> Manual Focus Design
>> 9-Blade Diaphragm
Ideal untuk jarak dekat, Micro-NIKKOR 55mm f/2.8 dari Nikon adalah prime normal-panjang serbaguna yang cocok untuk berbagai subjek, termasuk apa pun mulai dari potret hingga fotografi produk. Desain fokus manual memungkinkan bekerja dengan subjek sedekat 9,8" dengan perbesaran maksimum 1:2 yang tinggi. Desain optik menggunakan sistem Koreksi Jarak Dekat, yang mempertahankan kualitas dan ketajaman gambar yang konsisten dari jarak pemfokusan minimum hingga tak terhingga. Selain itu, apertur maksimum f/2.8 yang cerah menguntungkan bekerja dalam berbagai kondisi pencahayaan dan memungkinkan bekerja dengan kedalaman bidang yang dangkal dan teknik fokus selektif.
>> Slightly longer-than-normal prime is designed for FX-format F-mount cameras, however can also be used with DX models where it provides an 82.5mm equivalent focal length.
>> Bright f/2.8 maximum aperture suits working in a variety of lighting conditions and also offers increased control over depth of field for isolating subjects and using selective focus techniques.
>> Ideal for macro shooting, this lens offers a half life-size 1:2 maximum magnification along with a minimum focusing distance of 9.8" to suit working with close-up subjects.
>> Close Range Correction system helps to maintain consistent image quality throughout the entire focusing range.
>> Manual focus design is benefitted by engraved focus distance and depth of field scales.
>> Nine-blade diaphragm promotes a pleasing out of focus quality that benefits the use of shallow depth of field and selective focus techniques.
>> Compatible with optional PK-13 Auto Extension Ring to increase the maximum magnification to 1:1 and shorten the minimum focusing distance to 8.9".
Technical
Warranty
PT Alta Nikindo