Nikon AF-S 16-80mm E DX VR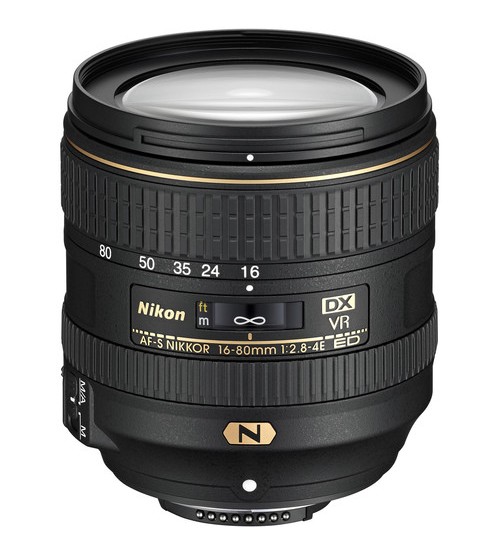 Lihat gambar lebih detail
Features
>> F-Mount Lens/DX Format
>> 24-120mm (35mm Equivalent)
>> Aperture Range: f/2.8 to f/32
>> Four ED and Three Aspherical Elements
>> Nano Crystal & Super Integrated Coatings
>> Fluorine-Coated Front and Rear Elements
>> Silent Wave Motor AF System
>> VR Image Stabilization
>> Electromagnetic Diaphragm Mechanism
>> Rounded 7-Blade Diaphragm
Dirancang sebagai DX workhorse, AF-S DX NIKKOR 16-80mm f/2.8-4E ED VR dari Nikon adalah zoom setara 24-120mm, sangat cocok untuk berbagai aplikasi pemotretan. Rentang aperture maksimum f/2.8-4 yang cerah menguntungkan bekerja dalam kondisi cahaya rendah serta mengontrol kedalaman bidang untuk pemotretan fokus selektif. Sama-sama mengesankan, desain optik menampilkan empat elemen dispersi ekstra rendah dan tiga elemen asferis, yang membantu mengontrol aberasi kromatik dan sferis untuk kejernihan dan ketajaman gambar yang menonjol. Kristal Nano dan Lapisan Super Terintegrasi juga ditampilkan, dan meminimalkan suar dan bayangan untuk meningkatkan kontras dan akurasi warna saat memotret dalam kondisi terang dan cahaya latar.
>> Standard zoom is designed for DX-format Nikon F-mount DSLRs and provides a 24-120mm equivalent focal length range.
>> Bright f/2.8-4 maximum aperture range suits working in difficult lighting conditions and also offers greater control over depth of field.
>> Three aspherical elements are used to reduce spherical aberrations and distortion in order to realize sharp imagery with accurate rendering.
>> Four extra-low dispersion elements greatly reduce color fringing and chromatic aberrations in order to produce greater clarity and color accuracy.
>> Both a Nano Crystal Coat and a Super Integrated Coating have been applied to individual elements to suppress internal reflections, flare, and ghosting for improved contrast and color accuracy when working in strong lighting conditions.
>> Vibration Reduction image stabilization helps to reduce the appearance of camera shake for up to four shutter speed stops, benefiting this lens' use in low-light conditions. Additionally, a designated Tripod Mode helps to suppress subtle ground vibrations when working atop a support system.
>> Silent Wave Motor affords quick, quiet, and precise autofocus performance along with full-time manual focus override. An internal focusing design is also used, where only the internal lens groups are moved during focusing, to maintain the overall length of the lens during use and to promote faster focusing speeds.
>> Fluorine coating on the front and rear elements affords protection to the optical system, resists smudging and fingerprints, and is easier to clean.
>> Rounded seven-blade diaphragm promotes a pleasing out of focus quality that benefits the use of shallow depth of field techniques.
>> Specialized electromagnetic aperture mechanism provides greater exposure control stability that is especially beneficial when working with fast continuous shooting rates.
This mechanism limits the compatibility of this lens to the following cameras: D5, D4, D3 series, Df, D850, D810, D810A, D800/E, D750, D700, D610, D600, D500, D300/S, D7500, D7200, D7100, D7000, D5600, D5500, D5300, D5200, D5100, D5000, D3400, D3300, D3200, D3100, Nikon 1 J1, J2, J3, J4 with FT-1, Nikon 1 V1, V2, V3 with FT-1, and Nikon 1 S1, S2 with FT-1.
Technical
Warranty
PT Alta Nikindo