Olympus M.Zuiko Digital ED 14-150mm f/4.0-5.6 II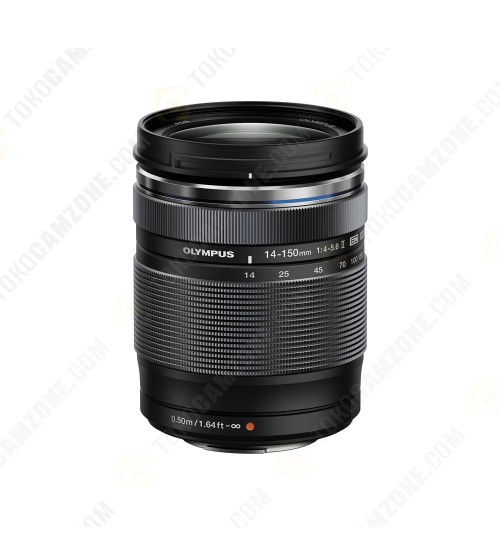 Lihat gambar lebih detail
The M. Zuiko Digital ED 14-150mm F4.0-5.6 (35mm equivalent 28-300mm) lens is designed to maximize the performance advantages of the Micro Four Thirds System, and it's significantly lighter and more compact--easily fitting in a jacket pocket.

The new lenses, made with ED (extra-low dispersion) glass for superior image quality, complement the design of the PEN® cameras, including the powerfully simple E-PL1, also announced today, making it the all-in-one package for consumers with any skill level, including those who are new to photography.

The Micro Four Thirds System standard meets the telecentric requirements of dedicated digital design. Light rays strike the imaging element nearly head-on for optimum edge-to-edge image reproduction. It also enables much more compact design than the Four Thirds System standard (or other interchangeable lens systems) because it reduces the outer diameter of the lens mount by 6mm, and the distance from the lens mount to the sensor (the flange back distance) by approximately half. As a result, M. Zuiko Digital Micro Four Thirds System lenses offer uncompromising professional quality for capturing both still-images and High-Definition (HD) videos, and the lenses are exceptionally compact to make capturing your life more fun.

The high-power wide-angle to telephoto M. Zuiko Digital ED 14-150mm F4.0-5.6 zoom lens is 65 percent smaller and 70 percent lighter than the comparable 10x ZUIKO Digital ED 18-180mm F3.5-6.3, making it ideal for everything from portraits and indoor scenes to sports and landscape photography.

By maximizing the advantages of the Micro Four Thirds System design, compact size, low weight and amazing image quality, the new lens significantly expand the photographic potential of the system. The inner focusing mechanism uses a light, compact, single-element unit to enable exceptionally fast, quiet autofocusing for smooth, superior operating ease during still and video capture. The manual focusing mechanism is designed to offer a responsive feel and precise operation, enabling you an affordable, high-quality means to capture your life in stills or HD videos.

The 14-150mm lens also offers quieter and more responsive AF performance, and provide professional image quality for capturing amazing still images and videos. It is compatible with all Micro Four Thirds System Olympus PEN cameras, and all other current and future cameras that comply with the Micro Four Thirds System standard. When mounted on an Olympus PEN camera, the lens is stabilized thanks to the camera's in-body Image Stabilization system and offer effective shake compensation at all focal lengths.
Technical
Warranty
1 Year Service & Spareparts