Zoom R24 MultiTrack Recorder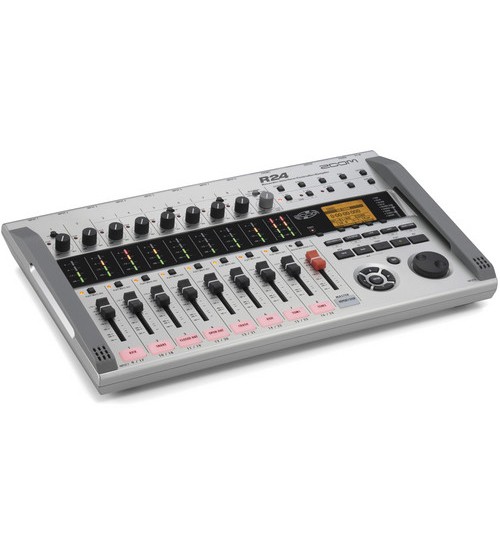 Lihat gambar lebih detail
PRODUCT HIGHLIGHTS
- Stand-Alone Multi-Track Recorder
- USB 2.0 Computer Interface & Controller
- Field Recorder & Portable Mixer
- Sampler with 24 Voices
- Drum Machine
- AC or Battery Power
- Built-In Stereo Condenser Microphones
- Supports 32GB SD Cards
- Mac & Windows Compatible
The R24 Multi-Track Recorder, Interface, Controller, and Sampler from Zoom unites many different audio tools into a single powerful unit; it's a stand-alone multi-track recorder, and a USB 2.0 computer audio interface/control surface, as well as a battery powered field recorder, mixer, drum machine, and sampler. Whether you're recording musicians, working on an indie film, or taking notes in biology class, you'll always have a use for the Zoom R24.
Using the R24 as a stand-alone recorder could mean many different things to different people. If you're a musician, this means that you can record a full live band and overdub up to 24 tracks (8 simultaneously), without ever touching a computer. If you're a filmmaker, you can record all of your lavalier and shotgun microphones in the field, and mix them to camera as well. If you're a photographer, you can record ambient sounds for use in a slide show presentation, and use the R24 as the playback device at the installation.
Using the R24 as a USB 2.0 audio interface to record into a computer also opens up different possibilities. Musicians can use it to track and mix with their favorite music production program, or use the included Cubase 4 LE software. Filmmakers and photographers can record voice overs and ADR (additional dialog recording) directly into their favorite non-linear editing programs like Final Cut Pro.
The control surface capabilities of the R24 will also benefit NLE users. The dedicated transport controls and jog/shuttle can be used to control the software, allowing the user to be less dependent on their mouse and keyboard. This is a huge benefit for musicians as well. Control surfaces help people focus on their creative work, rather than make them feel like they're checking their email.
With all of the potential uses and creative possibilities the R24 provides, it truly stands in a class of its own. When you factor in its budget-friendly price-tag, it really becomes an incredible option for any aspiring creative person.
- Stand-alone multi-track recorder and mixer, USB 2.0 computer audio interface and control surface
- Powered by the included AC adapter or by 6 AA batteries for up to 4 hours, ideal for field use
- Features built-in stereo condenser microphones, as well as 8 XLR/TRS combo inputs for external mics
- Supports SD cards up to 32GB for over 100 hours of recording time
- Records WAV files at 16 or 24-bit, at 44.1/48kHz sample rates
- 48V phantom power available on 6 channels simultaneously
- Operates on bus power from USB when used as a computer interface/control surface
- Over 100 built-in effects, from guitar amp modeling to mastering effects
- 4-segment LED meter bridge for easy viewing
- Effects can be used when recording in stand-alone mode, or when recording into a computer
- USB port can be used to back-up projects on thumb drives, and can also be used to sync 2 units together for more simultaneous recording tracks
- USB interface supports 8 channels in and 2 channels out at rates up to 24-bit/96kHz. The USB control surface uses Mackie Control emulation
- Full mixing and transport controls, with compatibility for Cubase, Logic, Sonar, and other software
- Pad sampler with 24 voices (8 pads x 3 banks)
- Loop-based audio sequencer for creating music.

Technical
Warranty
Non Warranty