Panasonic Leica DG Summilux 25mm f/1.4 ASPH (H-X025)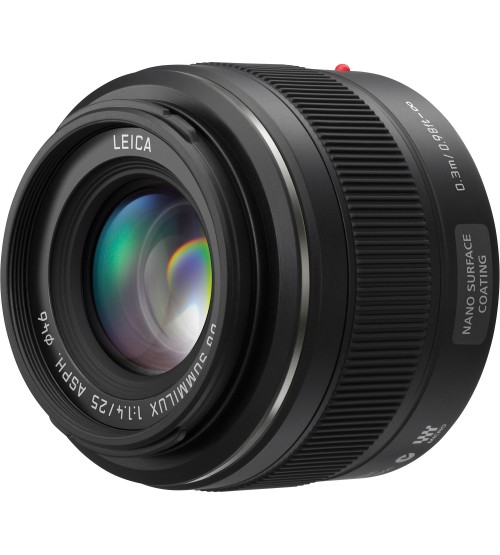 Lihat gambar lebih detail
There was a time where fast lenses were scarce in Micro-Four-Thirds land but things have changed quite a bit during the last 2 years. Among the first high-speed lenses was the Panasonic Leica Summilux 25mm f/1.4 ASPH which filled the "standard lens" gap in the system. Its maximum aperture of f/1.4 is certainly fast with respect to light gathering, but in terms of depth-of-field you are effectively "loosing" about two f-stops in this respect compared to the classic full format but this is still sufficient for quite shallow depth-of-field images especially for documentary photography. You should be able to find one for around 500EUR so it is far from being a budget item considering the typical prices for standard prime lenses in the DSLR market.
Objectively the build quality is fine thanks to very tight tolerances as well as good quality plastics, the metal mount and a smoothly operating focus control ring. However, with a length of around 55mm the lightweight lens is anything but compact but on the positive side the overall length remains constant throughout the focus range and the front element does not rotate.
The following figure shows the Panasonic Leica Summilux 25mm f/1.4 ASPH and the Panasonic LUMIX X VARIO PZ 14-42mm F/3.5-5.6 ASPH. POWER O.I.S. - just to give you an idea about the differences in size.
Specifications :
equiv. focal length (full format) "50mm"
equiv. aperture (depth-of-field) "f/2.8"
Optical construction 9 elements in 7 groups (2 aspherical lenses, 1 Ultra High Refractive Index Lens)
Number of aperture blades 7 diaphragm blades / Circular aperture diaphragm
min. focus distance 0.3m
Dimensions (L x W) 54,5mm x 63mm
Weight 200g
Filter size 46mm (non-rotating)
Hood No
Technical
Warranty
1 Year Service & Spareparts