Panasonic AG-UMR20 Memory Card Portable Recorder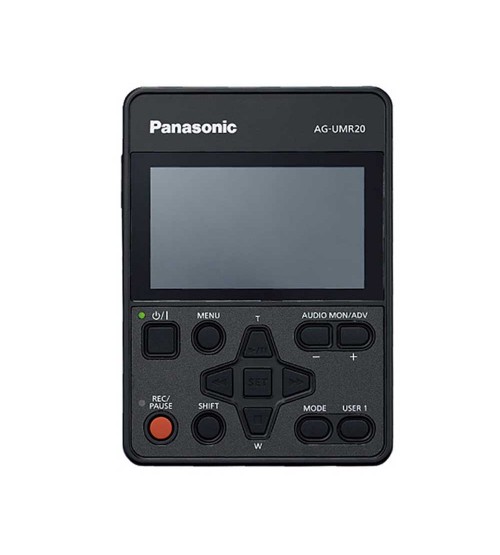 Lihat gambar lebih detail
PRODUCT HIGHLIGHTS
· SDI Input Supporting up to 1080p59.94
· Dedicated Input for UHD Camera Head
· Simultaneous SDI, HDMI, LAN Output
· Consecutive/Swappable Dual SD Card Slots
· Real-Time Zooming & More via LAN
· USB 2.0 Interface for Mass Storage
· 2 Remote Control Terminals (Zoom, Etc.)
· Battery & AC Operation
· 3.5" Touch-Panel LCD Monitor
· Built-In Speaker & Headphone Output
The Panasonic Memory Card Portable Recorder features dual SD card slots and offers an SDI input and multiple outputs, allowing for versatile operation in a compact form factor in broadcasting, live streaming, video production, and more. The slots function consecutively and allow for hot swapping, recording up to 22 hours in AVCHD PS mode and 112 hours in HE mode.
Record a camera or recorder signal over 3G/HD-SDI in up to 1080p59.94, as well as separate audio over a switchable mic/line input, and output to displays simultaneously over SDI and HDMI, and to mass storage over USB 2.0. You can also connect an additional Panasonic Compact Camera Head via a dedicated interface. This optional camera head records up to UHD 4K at 29.97 fps, and the HDMI output supports UHD playback from this camera. Furthermore, connect IP controllers, PCs, tablets, streaming decoders, and FTP servers over LAN, and zoom, start/stop, focus, and iris remote controllers over 2.5mm and 3.5mm mini jacks. IP streaming over LAN can be performed at the same time with SDI and HDMI outputs, so you output three signals simultaneously.
The recorder can run off the included AC adapter, and can also support up to 11,800mAh batteries (not included; see Supported Batteries below). Monitor everything on a 3.5" touch-panel display, and operate the recorder with onboard function buttons—you can also temporarily disable the buttons for precaution. You can monitor audio via a built-in speaker or headphone output. The recorder can also be arm or rack-mounted via threaded sockets provided in two locations (on the left and right).
Touch-Panel LCD Monitor
· 3.5", 16:9, 1.15 megadot panel
· Menu settings and user buttons can be operated by touch
· 13 user buttons, all assignable; four Scene File buttons allow easy switching of the scene setting
· The displayed image can be reversed vertically and horizontally (the optional Camera Head can be reversed vertically to match); when the image is reversed, the recorded image will remain in its original orientation
· Waveform and vectorscope display supported
· LCD DTL: The contours of the display image are emphasized to aid in focusing (even when the contours are emphasized, the recorded image will not be affected)
LAN Terminal for IP Streaming and IP Control
· IP control: Remote control from a PC, tablet, or IP controller enables record start/stop, clip delete, and Compact Camera Head control (zoom, focus, iris, and menu settings)
· IP streaming: Video and audio IP streaming supported; signals can be received and monitored by PCs, tablets, and IP decoders
· File transfer: Recorded clips can be downloaded by a network PCF
· Panasonic remote camera system IP controller supported for integrated system operation
· Open IP commands make it easy to design original systems
Two Remote Terminals
· Terminal for record start/stop and zoom operations
· Terminal for focus and iris control
Versatile Recording and Playback Functions
· Produce photos from video: Single-frame image files can be converted from recorded video images and used for high-quality photos
· Last clip delete: The clip that was recorded immediately before can be deleted with a single touch (this function can also be allocated to a user button)
· Time stamp: Date and time information can be superimposed onto images (ideal for extended research activities and nature observations)
· TC/UB recording: An SMPTE timecode generator is built-in
· Color bar signal output with 1 kHz audio test tone (when set to 50 Hz, a 997 Hz test tone is output)
· Repeat playback: Continuous, automatic repeat playback is possible for one clip or multiple clips from the thumbnail display
· Resume playback: When the Stop key is pressed during playback, the stop position is stored in memory; simply press the Play key to start playing again from the stop position (turning off the power resets the memory)
· Clip operation: Fast-forward, rewind, clip forward, clip reverse, and frame-by-frame playback operation are supported
Supported Batteries (Not Included)
· Panasonic AG-VBR118G: 7.28V, 11800mAh, 86Wh (approx. 280 min)
· Panasonic AG-VBR89G: 7.28V, 8850mAh, 65Wh (approx. 240 min)
· Panasonic AG-VBR59: 7.28V, 5900mAh, 43Wh (approx. 200 min)