Sigma sd Quattro Mirrorless Digital Camera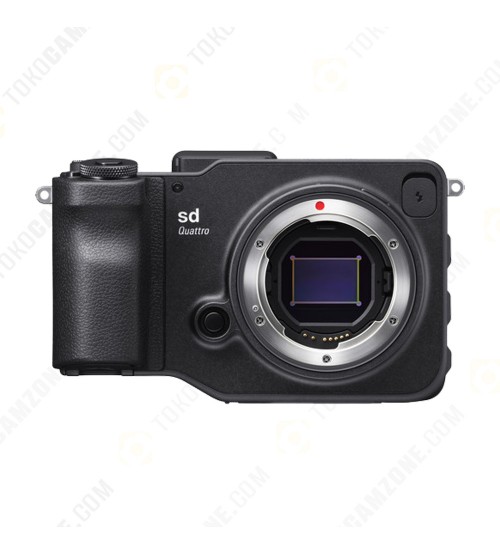 Lihat gambar lebih detail
Product Highlights
· 29MP APS-C Foveon X3 Quattro CMOS Sensor
· Dual TRUE III Imaging Processing Engine
· Sigma SA Lens Mount
· 2.36m-Dot Electronic Viewfinder
· 3.0" 1.62m-Dot Main LCD & Sub Monitor
· Phase & Contrast-Detect Hybrid AF System
· Super-Fine Detail Exposure Mode
· ISO 6400 and 3.6 fps Continuous Shooting
· Quick Set Button; Lock Switch
· Focus Peaking; Lossless Compressed Raw
Sigma is turning camera development on its head by developing a camera specifically to take full advantage of the Global Vision lens series with the release of the sd Quattro Mirrorless Digital Camera with a Sigma SA lens mount. This camera offers the utmost in resolution with a 29MP APS-C Foveon X3 Quattro CMOS sensor that uses a unique stacked design to deliver full color information at every single pixel without interpolation. By using a 1:1:4 RGB pixel ratio with a layered design, this eliminates the need for an optical low-pass filter, the sd Quattro can create 19.6MP lossless compressed raw images with a spatial resolution equivalent to that of a 39MP Bayer sensor. These vast quantities of image data are handled quickly and efficiently thanks to a Dual TRUE III image processing engine. Additionally, the APS-C size provides a 1.5x crop factor when compared to a full-frame 35mm sensor.

Image quality is the key advantage of the Foveon sensor, with the processing and available feature set allowing photographers to benefit as much as possible from the technology. Ensuring sharp imagery, this newly designed sensor has a hybrid phase- and contrast-detect autofocus system with nine selectable points. There is even focus peaking for shooters who prefer the precision of manual focus. Users will also be able to shoot at up to 3.6 fps in High quality and with a sensitivity reaching up to ISO 6400. Also, a Super-Fine Detail exposure mode is available which will take seven exposures and blend them into one exceptionally clean raw image file with a wide dynamic range.
Additionally, the sd Quattro caters to the needs of photographers by offering a plethora of physical controls along with an integrated 2.36m-dot electronic viewfinder for precise eye-level monitoring. Moving down the back of the camera, Sigma has also introduced a dual monitor system comprised of a 3.0" 1.62m-dot main LCD and a sub LCD screen that displays your basic exposure information and more for constant access to your critical settings. Other controls include a dedicated Quick Set button for bringing up the Quick Set Menu at a moment's notice and a lock switch to prevent accidental changes.
29MP APS-C Foveon X3 Quattro CMOS Sensor & Dual TRUE III Processing Engine

At the heart of Sigma's digital imaging system there has always been a Foveon sensor. This 29MP APS-C format Foveon X3 Quattro CMOS sensor represents the latest in this technology, offering outstanding resolution and rich color with smooth gradations and a wide dynamic range by using a layered pixel array. This system stacks the red, green, and blue pixels vertically with a 1:1:4 pixel ratio, allowing full color information to be collected at every photosite and a resolution equivalent to that of a 39MP Bayer array. Additionally, the top layer of blue pixels has a 19.6MP array, resulting in natural raw image data of 5424 x 3616 pixels.

Ensuring the vast amount of image data is handled efficiently and quickly, the sd Quattro utilizes a Dual TRUE III image processing engine. This allows for continuous shooting rates of up to 3.6 fps in High quality as well as working sensitivities up to ISO 6400. It also enables features like the Super-Fine Detail mode, which takes seven unique exposures and blends them into one clean and detailed raw image with a wide dynamic range.
Sigma SA Lens System

Featuring Sigma's SA interchangeable lens mount, nearly every single one of their respected Global Vision series of lenses will be available for use with the sd Quattro. This model also features an APS-C size sensor which has a crop factor of approximately 1.5x, meaning that a 50mm lens will have the equivalent field of view of a 75mm lens on a full-frame sensor. Additionally, the lens mount has complete electronic communication, ensuring all functions and features, including autofocus, optical stabilization, and more work correctly.

Current owners of Sigma Global Vision lenses can take advantage of the company's Mount Conversion Service to have lenses converted for use on different mounts. This ensures that a large library of glass will never become obsolete in the event a user invests in a new camera system.
Dual LCD Monitors & Electronic Viewfinder

For composing images and reviewing settings, a bright 3.0" 1.62m-dot LCD is available on the back of the camera. Unique to the sd Quattro series is a sub monitor adjacent to the main LCD which provides constant access to your most critical settings, including aperture, shutter speed, and more. These screens are covered by the same sheet of protective glass for a seamless appearance. For users looking for a more natural eye-level shooting stance, the sd Quattro is also equipped with a 2.36m-dot electronic viewfinder with a 1.09x magnification. A dedicated switch is available for quickly changing between the monitor, viewfinder, or an automatic switching setting.
Hybrid AF System

Equipped with both phase-detect and contrast-detect points, the sd Quattro can capture moving subjects with ease and lock on in no time at all. The system has up to 9 selectable points as well as free move and face detection. Additionally, it has been optimized to function in a range of shooting conditions with an operating range of -1 to 18 EV.
Technical
Pixel
Actual: 33 MegapixelEffective: 29 Megapixel
Sensor Type
CMOS, 23.5 x 15.5 mm
ISO Sensitivity
Auto, 100-6400
Memory Card Type
SD/SDHC/SDXC
Battery
1x BP-61 Rechargeable Lithium-ion Battery Pack
Warranty
Non Wirranty