iFootage Shark Slider Mini Complete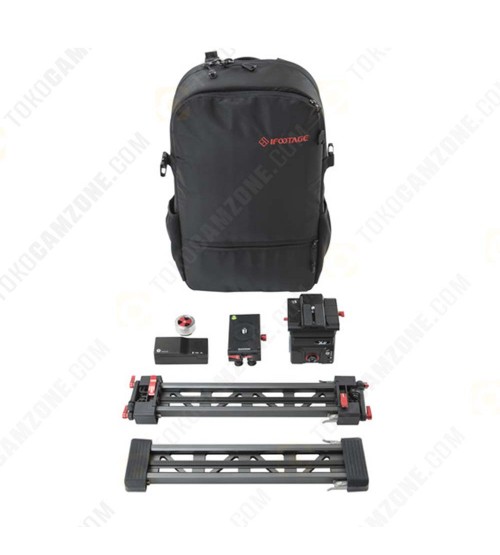 Lihat gambar lebih detail
Product Highlights
Lightweight and Compact Slider
Two Tracks for Travel Distance of 24"
Modular Design
3-Axis Motion Control
Control via iFootage App
Target Control
Timeline Control
Grid Photo Stitching Mode
Panoramic Control.



he Shark Slider Mini Complete from iFootage includes two tracks, a slider carriage, two track stand accessories, a flywheel, an X2 Mini pan and tilt head, a slide module, two batteries, cables, and a soft backpack. This 3-axis automated motion-control system is small and light enough to carry in your rucksack, yet big enough to provide you with smooth movement. The modular design and seamless track extension lets you connect the tracks, for a travel distance up to 24".

Control the Shark Slider Mini from your iOS device with the iFootage motion control app using Bluetooth 4.0 and 2.4 GHz. This app includes features such as target, manual, and timeline control, grid photo stitching mode, and panoramic control.

High-quality design, made of durable hard anodized materials and components

iFootage motion control app with free firmware updates using Bluetooth 4.0 and 2.4 GHz

Target control, for setting A and B camera points and easily creating repeatable movement with variable speeds

Manual control is easy to understand and operate, with touchscreen control of all three axes

Timeline control with preset Bezier curve for three-axis movement, for accurate control of speed, angles, and creative compositions

Grid photo stitching resulting in high-resolution images

Dynamic panoramic photography setup is quick and easy

Highest location accuracy for motion-control slider is 0.000128", and for the pan and tilt head it is 0.001°

Unique quick release mini flywheel and motion module

USB power charge and power supply to motors

Preset and repeatable camera movement

Slider can be used both vertically and horizontally.

Specifications :

Track
Travel Distance
24" / 60 cm, with both tracks attached
Material
Aluminum magnesium alloys and SUS304 stainless steel
Dimensions
15.9 x 3.7 x 1.0" / 40.4 x 9.5 x 2.5 cm (each)
Weight
1.5 lb / 0.7 kg with pulley (each)

Module
Accuracy
0.00325
Max Load
4.4 lb / 2 kg
Battery Power
2 hours
Speed
0 to 1.96 in/sec / 0 to 50 mm/sec
Operating Frequencies
Bluetooth and 2.4 GHz
Signal Range
33' / 10 m
Operating Voltage
7.2 to 8.4 V
Motor Power
2.5 to 3 W

Pan & Tilt Unit
Accuracy
0.001°
Max Load
3.3 lb / 1.5 kg
Battery Power
2 hours
Spin Speed
0 to 30°/s
Operating Frequencies
Bluetooth and 2.4 GHz
Signal Range
33' / 10 m
Operating Voltage
7.2 to 8.4 V
Head Weight
2 lb / 0.9 kg

Packaging Info
Package Weight
13.6 lb
Box Dimensions (LxWxH)
20.2 x 13.6 x 8.5"
Technical
Warranty
Non Warranty