Blackmagic Design Videohub 40x40 12G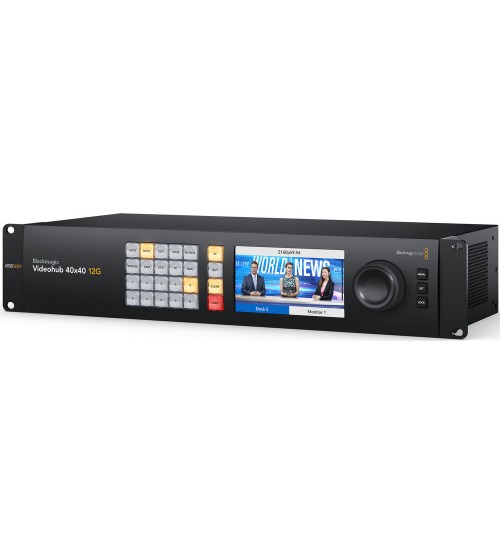 Lihat gambar lebih detail
Features
>> Zero-Latency Routing Switcher
>> 40 x 12G-SDI Inputs,40 x 12G-SDI Outputs
>> Supports Up to DCI 4K60 Video
>> Combines SD, HD, UHD 4K & DCI 4K Video
>> Push-Button, Knob & Ethernet Control
>> 2.2" Front Panel LCD Status Display
>> SDI Reclocking, 2 RU Form
>> Includes Videohub Mac/Windows Software
Front Panel Controls
- A sleek front panel offers multiple control options.
- Buttons include assignable shortcuts, and In, Out, Clear, and Take buttons.
- The machined metal spin knob provides precise control using an electronic clutch.
Built-In LCD
- View your live input before routing the signal on the built-in 2.2" LCD screen.
- Bottom labels enable you to scroll through your sources in alphabetical order.
- Eliminates the need to add an external SDI monitor to your setup.
12G-SDI Multi-Rate Connections
- Multi-rate 12G-SDI connections enable you to route up to 40 different video standards at the same time.
- Supports up to DCI 4K60 video resolutions.
- Provides 4:2:2 8 or 10-bit color routing in any standard.
- Works with 4:4:4 12-bit SDI up to DCI 4K30 for feature films.
SDI Reclocking
- Reclocking on every 12G-SDI input regenerates the signal, providing the maximum video quality.
- Reduces or eliminates signal loss and jitter when using longer cables.
Optional Hardware Control Panels
- Can be used with optional hardware panels for easier control when components are spaced out in large facilities.
- Compatible with both the Videohub Master Control Pro and the Videohub Smart Control Pro.
Flexible Control
- The Mac and Windows-compatible Videohub Software Control provides easy-to-use touchscreen router control.
Setup Utility and SDK
- Use the Videohub Setup software to get started or the SDK to add protocol support for broadcast automation systems.
Multiple Language Support
- Customized support is available in:
- English, Chinese, Japanese, Korean
- Spanish, German, French, Russian
- Italian, Portuguese, Turkish, Polish, Ukrainian
Technical
Warranty
Blackmagic Indonesia