Avermedia EzRecorder 130 Standalone Recorder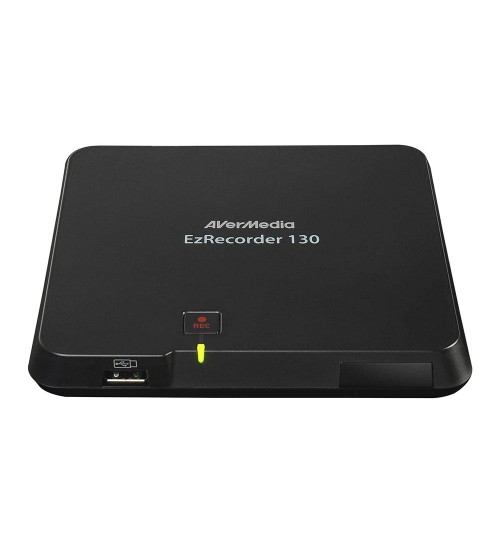 Lihat gambar lebih detail
It's easy to preserve all the wonders and excitements you see on TV.
EzRecorder 130 is a stand-alone recorder that captures HDMI videos as you watch them, without the need of a PC.


Keep Everything Recorded
Be it your games or sports games, EzRecorder 130 easily records HDMI video at the press of a button, or on a schedule, even when your TV is powered off.
Preserve Your Favorite Moments
With the remote control, view the recorded videos at your leisure. The snapshot function lets you capture your favorite moments onto inspiring high-quality pictures.
It's Not Final until You Say So
EzRecorder 130 makes post-production easy as well. The built-in video editor allows you to trim and merge clips seamlessly without a PC. Knowing you'll have the final touch just makes recording so much easier.
SPECIFICATIONS
Technical Specifications

• Interface:Standalone
• Storage:USB external hard drive, USB flash drive**
• Video Input:HDMI
• Video Output (Pass-Through):HDMI
• Audio Input:HDMI
• Audio Output (Pass-Through):HDMI
• Max Pass-Through Resolutions:1080p60
• Max Record Resolutions:1080p30
• Supported Resolutions (Video input):1080p, 1080i, 720p, 576p, 576i, 480p, 480i
• Record Format:MPEG 4 (H.264+AAC)
• Dimension (W x D x H):133 x 125.1 x 20.5 mm (5.24 x 4.92 x 0.81 in)
• Weight:176g (6.2oz)
Notes:
1. EzRecorder 130 does not support viewing/recording/streaming of HDCP protected signals
2. ** Not included. NTFS format in MBR partition table is required. (FAQ link here)
USB hubs, card readers, FAT format, NAS or HDDs over 2 TB capacity are not supported.

What's in the box

• EzRecorder 130 (ER130)
• Power adapter (5V / 2A)
• DC to Mini-USB cable
• Remote control (batteries included)
• Quick guide
• User manual
Technical
Warranty
Non Warranty