Yolobox Pro Yolo Liv Portable Live Stream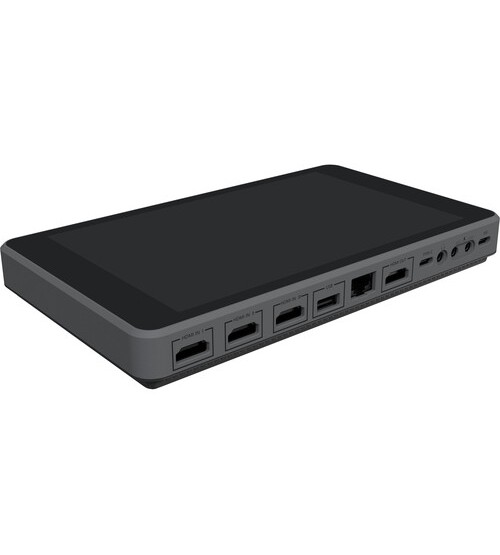 Lihat gambar lebih detail
Features
>> Simultaneous Cross-Platform Streaming
>> Encoder, Monitor, Switcher, and Recorder
>> 8" Touchscreen Control LCD Display
>> Live Switch from up to 8 Sources
>> 3 x HDMI & 1 x USB Inputs
>> Supports H.264/MP4 up to 1080p Video
>> Stream via Ethernet, Wi-Fi, 4G LTE
>> 1 x SD Card Slot for Record, up to 128GB
>> HDCP Compliant, Audio & Mic Input
>> 400 cd/m² Brightness, Built-In Battery
Buat produksi streaming langsung dari mana saja dengan YoloBox Pro Portable Multi-Camera Encoder/Streamer/Switcher/Monitor/Recorder ultra-portabel dari YoloLiv. YoloBox Pro dapat secara bersamaan menyiarkan hingga tiga aliran video melalui Wi-Fi, RJ45 Ethernet, atau melalui 4G LTE dengan kartu SIM dan langganan yang tersedia secara terpisah. YoloBox Pro memiliki beberapa pembaruan dari YoloBox asli, termasuk kepatuhan HDCP, input audio analog mic dan line, input USB, tiga input HDMI, encoder/prosesor Qualcomm 660, baterai internal 10.000mAh berkapasitas tinggi, dan Layar sentuh LCD 8" dengan kecerahan 400 cd/m².
Latest Firmware 1.06 Update
As of the latest firmware update:
Support two videos from SD card: Users can now add a total of 3 sources (2 videos and 1 PDF) from the SD card, and a total of 8 video sources (3 HDMI + 1 USB-A + 1 USB-C + 2 SD Card Videos + 1 PDF)
Scoreboard Countdown Timer: You can easily create a timer or reset it whenever you want with just one tap. The longest time period supported is 100 minutes, satisfying various live streaming scenarios and taking your live production to a new level of flexibility.
Character limits for rolling captions removed: Even if you live stream a music festival with all lyrics displayed, there won't be a problem.
Latest Firmware 1.04 Update
As of the latest firmware update:
Select encoding options including CBR, VBR, CQ
Built-In Chroma Key is available on YoloBox Pro
Standard bug fixes and performance improvements
Customize your graphic overlays, including editing the fonts, colors, and background colors of your lower-thirds, scoreboard, and rolling captions
Key Features
Touch control without a computer
8" LCD display with 400 cd/m² brightness
Built-in simultaneoulsy streaming to up to 3 destinations
HDCP compliant
Stream via Ethernet, Wi-Fi, LTE 4G
Live switch up to 8 sources
3 x HDMI inputs, 1 x USB video input, 1 x SD card slot, 1 x HDMI output
One USB Type-C charging input
Mic and Line audio input, 1 x audio output
Ability to input PDF
Add logos/comments to the stream
Import pictures/videos from SD card
Records internally to SD card up to 128GB
Direct integration with YouTube/Facebook/RTMP(s)
Supports up to 1080p60 video
Touchscreen Control
The YoloBox Pro provides you with a large touchscreen interface for easy streaming and control.
Functions
The device works as a switcher, with a variety of picture-in-picture templates as well as graphic layers. It has a built-in encoder that allows for live streaming, and it can record to optional SD cards up to 128GB.
Overlays
You can brand your live stream by adding logos/watermarks/rolling captions
Customized PiP options, including Interview mode, allow you to bring a unique look and feel to your stream
Engage with your audience in real time via feature comment overlays
The customizable scoreboard feature displays a real-time-controlled scoreboard for professional looking results
Built-in lower-thirds templates can be edited or you can add your own
Internet
You can connect to the internet using the integrated RJ45 (Ethernet) port, Wi-Fi, and via cell service using an optional SIM card.
Simultaneous Streaming
YoloBox Pro will first push your feed to the YoloLIV platform, from where it automatically forward your feed to a maximum of 3 destinations simultaneously.