OBSBOT Tiny 4K AI-Powered PTZ Webcam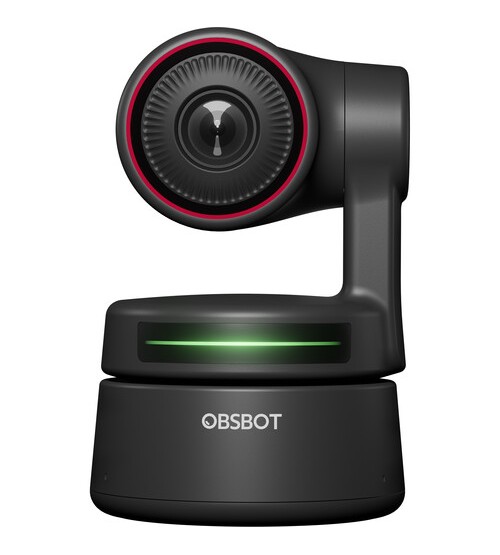 Lihat gambar lebih detail
Features
>> Compact 4K USB PTZ Webcam with 4x Zoom
>> Capture Video up to HDR 4K30
>> Subject Auto-Tracking, Gesture Control
>> Autofocus, Auto-Exposure, White Balance
>> Built-In Omnidirectional Mics, Tally LED
>> Record and Stream Using Computer
>> Noise Cancelling Microphones
>> USB Type-C to Type-A Host Connection
>> 1/4"-20 Tripod Mounting Thread
>> Control with Free TinyCam Software
Tambahkan webcam yang kuat dan cerdas ke lingkungan remote, rumah, atau ruang konferensi Anda yang dapat mengikuti Anda berkeliling ruangan dengan OBSBOT Tiny 4K AI-Powered PTZ 4K Webcam. OBSBOT Tiny 4K adalah webcam UHD ringkas yang memiliki fitur kontrol perangkat lunak jarak jauh dari fungsi pan, tilt, dan zoom serta memungkinkan gerakan tangan untuk kontrol dan pelacakan otomatis menggunakan pengenalan subjek bawaan. Kamera dihubungkan ke komputer host dan kompatibel dengan berbagai platform video online seperti Zoom, Microsoft Teams, Facebook, YouTube, dan banyak lagi. Model Tiny 4K meningkat dari Tiny sebelumnya dengan menambahkan dukungan untuk pengambilan gambar hingga 4K30, kemampuan fokus otomatis, dan zoom 4x yang ditingkatkan.
AI-Tracking with Auto-Framing
OBSBOT Tiny 4K comes with a Next-Gen enhanced AI tracking algorithm enabling it to lock on a person. No matter how or where you move, OBSBOT Tiny 4K will always follow you smoothly and precisely.
Gesture Control
OBSBOT Tiny 4K allows users to access a series of functions such as select/cancel tracking target and zoom in/out with natural simple gestures, without the need to press any buttons.
HDR, AI Auto-Exposure, and Smart White Balance
The Tiny 4K supports HDR video and features auto-exposure and auto white balance, which always focus on making the subject look great no matter what the lighting conditions are.
Autofocus
Autofocus allows the OBSBOT Tiny 4K to always keep you in focus.
Pan/Tilt Functions
Pans ±150° and tilts ±45° using software control; maximum control speed up to 120°/second.
USB Host Connection
Connects to a Windows or macOS computer using a USB Type-C to Type-A cable for data and power
4x Digital Zoom
The camera can zoom into your subject using a 4x digital zoom.
Audio Capture
Omnidirectional microphones capture audio and feature noise cancellation for crisp, clear recording.
Privacy
The camera can be manually tilted completely down for privacy
Mounting
The Tiny 4K can be mounted onto a laptop or table using the included magnetic mount or onto an optional tripod using its 1/4"-20 bottom thread.
Software
OBSBOT TinyCam software is free to download to access advanced settings, control and adjust the rotation of the gimbal, select target or unlock target, zoom in or out, or set preset positions.
Video Streaming Applications
The Tiny can be used with a variety of online platforms such as Skype, Zoom, Meet, Teams, Facebook, YouTube, and TikTok.