Nikon PC-E 45mm f/2.8D ED N Micro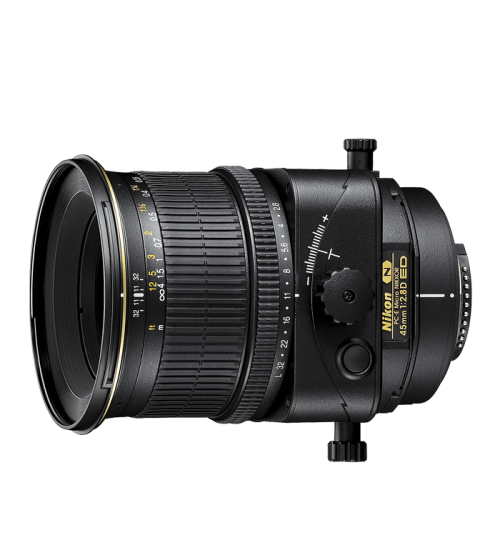 Lihat gambar lebih detail
Nikon Corporation is pleased to announce the introduction of the two new PC-E NIKKOR Perspective Control lenses, with tilt/shift function, for digital and 35mm-fomat film SLRs – the PC-E Micro NIKKOR 45mm f/2.8D ED and the PC-E Micro NIKKOR 85mm f/2.8D. Together with the PC-E NIKKOR 24mm f/3.5D ED, released in February 2008, the PC-E NIKKOR series now covers a range extending from 24mm wide-angle to medium telephoto 85mm.
The PC-E NIKKOR lens series features a tilt/shift mechanism that provides extraordinary control over the relationship between the optical axis of the lens and the image plane, thereby enabling Perspective Control. This function proves particularly valuable for specialized professional users such as architecture and product photographers.
Incorporating an electromagnetic diaphragm, these lenses provide auto aperture control when used with D3, D700 and D300 digital SLR cameras for improved operability. Furthermore, Nano Crystal Coat effectively reduces ghosting and flare to provide sharper, more vivid images. This contributes to the superior optical performance of these lenses to realize the outstanding image quality for which NIKKOR interchangeable lenses are renowned.
Note: `PC` in the lens name stands for Perspective Control.
Perspective control with tilt/shift function
All PC-E NIKKOR lens with Perspective Control capability incorporate a special tilt/shift mechanism. The shift mechanism enables the lens to be moved parallel to the image plane, so that subjects such as a tall building can be captured faithfully, without the upper part appearing to tilt backward and become thinner. The tilt mechanism changes the orthogonal relationship between the optical axis of the lens and the image plane, allowing you to control the focused area. In landscape photography, you can achieve a focus throughout the entire subject plane from near to distant. You can also achieve focus on a specific part of the subject for emphasis. In actual shooting situations, the shift and tilt mechanisms are used together to adjust perspective, distortion of the subject, and focus area.
Technical
Warranty
PT. Alta Nikindo