Nikon 1 Nikkor VR 10-100mm f/4.5-5.6 PD-Zoom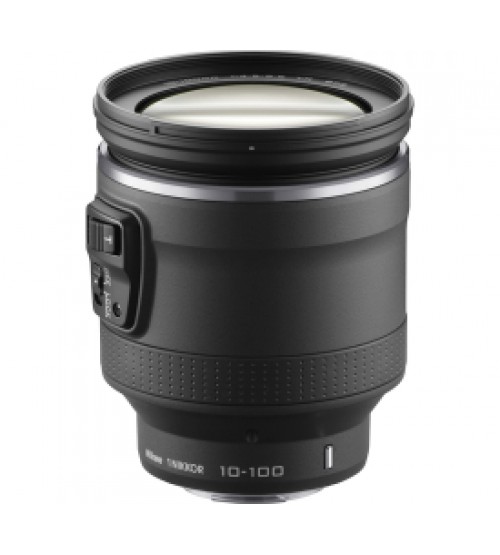 Lihat gambar lebih detail
Nikon 1 Nikkor VR 10-100mm f/4.5-5.6 PD-Zoom Lens is an amazing power zoom lens designed for use with the Nikon 1 CX format mirror-less cameras. Its 27-270mm (equivalent in 35mm format) range gives you a true wide angle, a long telephoto and everything in-between. Because of the Nikon 1 camera's 1080p full HD video capabilities, this lens has a silent zoom motor using a voice coil AF motor (VCM) with three adjustable speeds--making it a perfect lens for shooting video. The Vibration Reduction (VR II) system makes it possible to shoot at much lower shutter speeds, with sharper results, than is normally the case.
Using a High Refractive Index lens, aspherical elements, and extra-low dispersion glass, plus Super Integrated Coating, this lens delivers superb images, still or video. Internal focusing makes possible a smaller, lighter lens with a closer focusing distance.
10x Power Drive Zoom Lens
A versatile 10-100 mm power zoom, this lens was developed specifically for shooting movies. The lens features three adjustable zoom speeds to bring coverage variety, plus a voice coil AF motor (VCM) that keeps camera pan-in and pan-out activity silent. Vibration reduction (VR II) reduces the chance of blurred photos. Use this lens to capture everything from portraits to sweeping landscape views.
Silent Motor Lens Perfect for Movie Making
Vary your angles and depth of field with the 10-100 mm lens. This lens is equipped with power drive zoom and vibration reduction (VR II). Also included is the voice coil AF motor (VCM) for quiet autofocusing. Powerful and versatile, your expressions in movie mode will sizzle. Whether working up close with wide view, or framing a horizon in the distance, the 10-100 mm lens puts flexibility into your workflow.
Perfect for Portrait to Landscape Photography
Command control of depth of field with the 10-100 mm and isolate subjects from their backgrounds for both photos and video. Equipped with vibration reduction (VR II), the 10-100 mm is ideal for movie recording, as well as photo capture sharpness. The 10-100 mm 1 NIKKOR lens applies three ED and two aspherical lens elements to ensure only the highest quality and color images-even at the widest aperture settings-are obtained. The HRI (High Refractive Index) lens element keeps the lens compact while offering superior contrast at even maximum aperture.
Move in Closer or Shoot From Afar
Use the amazing reach of the 10-100 mm and bring subjects close. Get right in the action by maximizing to the full 100 mm and retain sharpness at 2.8 feet from your subject. Even at this magnification photos and movies come out crystal clear and sharp courtesy of vibration reduction (VR II).
Vibration Reduction
This innovative VR system minimizes image blur caused by camera shake, and offers the equivalent of shooting at a shutter speed three stops (eight times) faster. It allows handheld shooting at dusk, at night, and even in poorly lit interiors. The lens' VR system also detects automatically when the photographer pans - no special mode is required.
High Refractive Index Lens
With a refractive index of more than 2.0, one HRI lens can offer effects equivalent to those obtained with several normal glass elements and can compensate for both field curvature and spherical aberrations. Therefore, HRI lenses achieve great optical performance in an even more compact body.
Internal Focusing
Imagine being able to focus a lens without it changing in size. Nikon's IF technology enables just that. All internal optical movement is limited to the interior of the non-extending lens barrel. This allows for a more compact, lightweight construction as well as a closer focusing distance.
Aspherical Lens Element
Aspherical lenses virtually eliminate the problem of coma and other types of lens aberration - even when used at the widest aperture. They are particularly useful in correcting the distortion in wide angle lenses. In addition, use of aspherical lenses contributes to a lighter and smaller lens design.
Extra-Low Dispersion Glass
Nikon developed ED (Extra-low Dispersion) glass to enable the production of lenses that offer superior sharpness and color correction by minimizing chromatic aberration. ED glass offers all the benefits, yet none of the drawbacks of calcium fluorite-based glass. With this innovation, Nikon developed several types of ED glass suitable for various lenses.
Nikon Super Integrated Coating
To enhance the performance of its optical lens elements, Nikon employs an exclusive multilayer lens coating that helps reduce ghost and flare to a negligible level. Nikon Super Integrated Coating achieves a number of objectives, including minimized reflection in the wider wavelength range and superior color balance and reproduction.
Technical
Warranty
PT Alta Nikindo