Samyang For Canon XEEN 24mm T1.5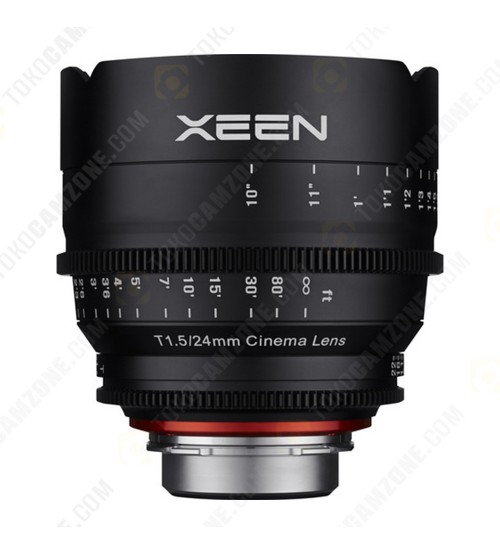 Lihat gambar lebih detail
The Samyang XEEN 24mm T1.5 is a dedicated professional cine lens for film and high end video production including 4K. As in all the XEEN series, the 24mm features a bright T1.5 lens with 11 aperture blades to create a pleasing bokeh effect for a cinematic look and superb optics for outstanding optical performance. Available in 5 different mounts - PL, Canon EF, Nikon F, Sony E mount, and Micro Four Thirds (MFT) mounts, to suit a multitude of film camera systems. Furthermore mounts are interchangeable, meaning each lens can be used on a variety of cameras.
The XEEN series feature unified attributes across the lens series including standard follow focus gearing, declicked gear rings in identical locations, so that changing lenses is no longer a hassle, focus throw angle of 200 degrees, aperture adjustment angle range of 40 degrees, and front lens diameter size of 114mm. In addition, the XEEN lens range feature special X-Coatings on the optical surfaces to ensure maximum image quality by minimising lens flare and ghosting.
Other features include calibrated focus scales in metric or imperial units, solid and robust construction with reliable aluminium metal housings, smooth and accurate manual control to give the professional user a consistent familiar feel, when moving from other manufacturers high end cinema lenses, or other Samyang XEEN series. The XEEN series also aim to delivers unparalleled performance with affordability to satisfy the needs of videographers and filmmakers, regardless of the situation or equipment.
The Samyang XEEN 24mm T1.5 weighs 1,180g in PL and Canon EF mount, 1,135g in Nikon, 1,185g in Sony E and MFT mounts. Full frame compatible, with angle of view of 84.1 degrees on Full Frame (1:1x), 61.2 (Super 35), 60.4 (APS-C 1.5x), and 47.6 degrees on MFT respectively.
Technical
Warranty
1 Year Service & Spareparts