Sigma for Nikon 24-35mm f/2.0 DG HSM | A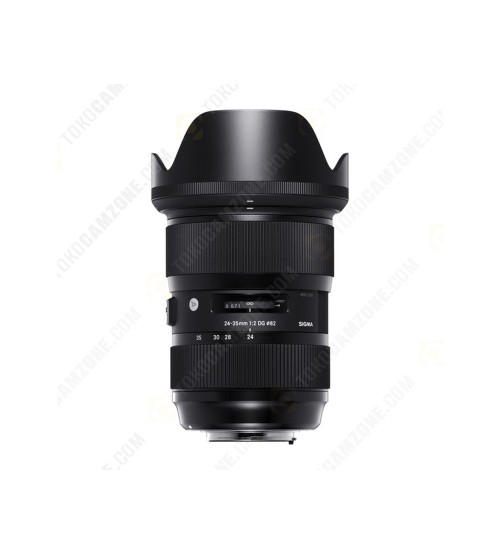 Lihat gambar lebih detail
PRODUCT HIGHLIGHTS
• F Mount Lens/FX Format
• Aperture Range: f/2 to 16
• FLD & Special Low Dispersion Elements
• Two Aspherical Elements
• Super Multi-Layer Coating
• Hyper Sonic AF Motor
• Internal Focus; Manual Focus Override
• Rounded 9-Blade Diaphragm
• Thermally Stable Composite Material
• Compatible with Sigma USB Dock
Sigma has expanded their ever growing Global Vision line with the worlds first constant f/2 aperture on a full-frame zoom lens, the 24-35mm f/2 DG HSM Art Lens, available here with the Nikon F lens mount. The groundbreaking aperture combined with the versatile wide-angle 24-35mm focal length allows photographers to easily replace three common lenses, the 24mm, 28mm, and 35mm, with one piece of gear. The lens also offers exceptional control over depth-of-field with an aperture range from f/2 to 16, and when used on DX camera bodies it has an equivalent focal length of 36-52.5.
Along with the rest of the Art series, the 24-35mm offers high quality optics with the use of one "F" Low Dispersion and seven Special Low Dispersion glass elements in addition to two aspherical lenses. This system minimizes the appearance of spherical aberration, axial chromatic aberration and field curvature. A Super Multi-Layer Coating is present to reduce flare and ghosting for sharp, high-contrast images and it can focus as close as 11".
In terms of speed, this lens is equipped with a Hyper Sonic AF Motor which is nearly silent and has an optimized autofocus algorithm for fast, accurate tracking. The body of the 24-35mm is constructed of a Thermally Stable Composite material which performs well in all conditions. The barrel also has a focus ring with grants full-time manual override and the system is designed for completely internal focusing. Further ensuring optimal performance is compatibility with Sigmas USB Dock for firmware updates and AF microadjustment.
• As part of the Art line within Sigmas Global Vision series, this lens is designed to achieve truly notable optical performance and is ideally suited for creative and artistic applications.
• The wide-angle 24-35mm focal length effectively covers three common lenses: the 24mm, 28mm, and 35mm. This allows users to shoot with just one lens and not worry about carrying additional equipment or swapping out optics in less-than-ideal weather conditions. When used with a DX-format sensor, the lens offers a 36-52.5mm equivalent focal length.
• Fast f/2 maximum aperture is well-suited for working in low-light conditions and also provides greater control over the focus position when using shallow depth of field techniques.
• This lens has been designed using an advanced optical structure to achieve both high resolution and sharpness, along with consistent edge-to-edge illumination. A pair of aspherical elements correct for sagittal coma flare, distortion, and axial chromatic aberration, while also enabling full use of the fast f/2 maximum aperture with maintained peripheral brightness and sharpness.
• One FLD and seven SLD glass elements have been incorporated within the lens design to correct for chromatic aberrations throughout the entire focusing range and help to ensure high image sharpness, clarity, and contrast regardless of focus point or aperture setting.
• A Super Multi-Layer Coating has been applied to lens elements in order to minimize lens flare and ghosting and contribute to producing contrast-rich and color-neutral imagery, even in backlit conditions.
• The integrated HSM (Hyper Sonic Motor) realizes quick and quiet autofocusing, which is further complemented by an optimized AF algorithm to produce smoother focusing performance. The HSM also permits full-time manual focus control simply by rotating the focus ring at any time.
• A rounded nine-blade diaphragm helps to produce an attractive out-of-focus quality.
• The lens is constructed using a Thermally Stable Composite (TSC) material along with traditional metals for greater precision and use in wide temperature variations. The outside of the lens barrel is also engraved with the year of production.
• The included lens hood is fitted with a rubber connection for a secure fit.
• This lens is compatible with the optional Sigma USB Dock for fine-tuning different lens characteristics and updating its firmware.
Technical
Warranty
2 Years Service & Spareparts