Sandisk Extreme MicroSDXC A1 UHS-I Card Read 100MBs/667X 64GB (With Adapter)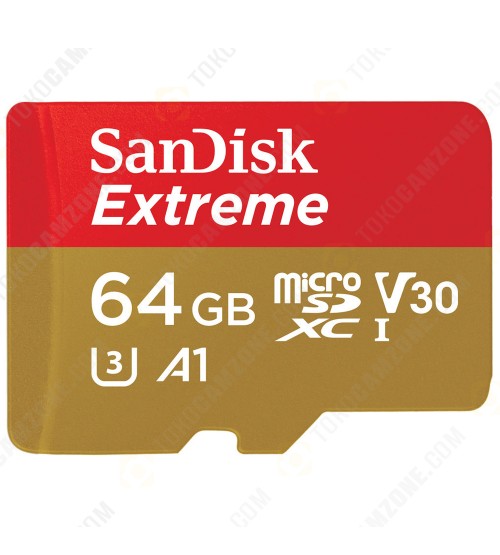 Lihat gambar lebih detail
PRODUCT HIGHLIGHTS
64GB Storage Capacity
A1 / UHS-I / V30 / U3 / Class 10
Max Read Speed: 100 MB/s
Max Write Speed: 60 MB/s
Min Write Speed: 30 MB/s
Records Full HD and UHD 4K Video
Water / Shock / X-Ray / Temp Proof
Designed for Action Cameras
Optimized for Mobile Users
Includes SD Adapter
Designed for action cameras and mobile devices, the 64GB Extreme UHS-I microSDXC Memory Card from SanDisk features a storage capacity of 64GB and supports maximum read speeds of 100 MB/s and maximum write speeds of 60 MB/s. This card has also been designed with the V30 Video Speed Class rating, which guarantees minimum write speeds of at least 30 MB/s. All of this allows for users to immerse themselves in extreme sports videography and photography at resolutions of Ultra HD 4K (3840 x 2160) and Full HD (1920 x 1080).
While this card has been designed for cameras that are UHS-I / V30 compatible, it may be used in devices that do not support UHS-I / V30. However, bear in mind that this card will then default to your device's speed class and bus rating, such as UHS-I and U3, which also supports minimum write speeds of 30 MB/s, UHS-I and U1, which supports minimum write speeds of 10 MB/s, or Class 10, which also supports minimum write speeds of 10 MB/s.
Aside from support for UHS-I, V30, and U3, SanDisk also built this card with support for the Application Performance Class 1 (A1) spec, which includes optimizations to give Android users an improved mobile experience, delivering faster mobile app performance. The A1 spec allows the card to manage random read input-output access per second (IOPS) operations so it can quickly open apps and process accompanying tasks, such as audio, graphics, saved profiles, and in-app permissions.
As with most SanDisk media, this memory card is shockproof, X-ray proof, and waterproof, while also being able to withstand temperatures from -13 to 185°F, allowing you to take this card with you into extreme environments, such as snow, deserts, and pools. Should the card's data become compromised, you also benefit from the option to download RescuePRO Deluxe software as well as a limited lifetime warranty. Included is a microSD to SD adapter, allowing this card to be used in SD-compatible devices.
General Features
Designed for Your Action Camera

Training, planning, and gear - extreme sports require extreme readiness. To make sure you have a lasting record of the event from your own unique POV, you need the right camera and the right memory card, too. SanDisk Extreme microSD UHS-I cards deliver the speed, capacity, durability, and quality you need to make sure your adventure is captured, even if you blink on the way down.
Shoot 4K Ultra HD Video Today

Pro video performance with both Class 10 and UHS Speed Class 3 (U3) ratings lets you capture 4K Ultra HD (3840 x 2160) and Full HD (1920 x 1080) video. Your videos will meet today's high resolution standards for 4K Ultra HD TV screens and monitors, making this card well-suited for your 4K Ultra HD video-enabled smartphone, tablet, or camera.
The Speed You Need

Things happen quickly. With write speeds of up to 60 MB/s, SanDisk memory cards give you the speed you need to capture precise details. Fast write speeds reduce the time you're on hold while you move pictures and videos to your card. Offload big files faster with read speeds of up to 100 MB/s so you're ready to catch the next shot and enjoy smooth video playback.
Built for Extreme Conditions

SanDisk Extreme microSD UHS-I Cards are waterproof, shockproof, x-ray proof, and temperature proof to help protect your memories from life's mishaps. Take your phone or tablet to the snow, to the pool, or to the desert, where this card can endure temperatures ranging from -13 to 185°F.
SD Adapter for Versatility

This card comes with an SD card adapter so you can also capture and access data on the card with devices that have an SD card slot. You'll be able to use your memory card with SD enabled cameras, camcorders, tablets, and laptops.
Support

The SanDisk Extreme microSD UHS-I Memory Card is backed by a limited lifetime warranty. Support also includes downloadable RescuePRO Deluxe data recovery software for bringing accidentally deleted images back to life.
Card Type
microSDXC
Storage Capacity
64 GB
Bus Type
UHS-I
Speed Class
10
UHS Speed Class
U3
Video Speed Class
V30
Application Performance Class
A1
Data Transfer
Read Speed 100 MB/s Maximum
Write Speed 60 MB/s Maximum
Write Speed 30 MB/s Minimum
Durability
Shockproof, Temperature Extremes, Waterproof, X-Ray Proof
Operating Temperature
-13 to 185°F/ -25 to 85°C
Storage Temperature
-40 to 185°F/ -40 to 85°C
Built-in Write-Protect Switch
No
Wireless Capability
None
File System

Not Specified by Manufacturer

RoHS Compliant

Not Specified by Manufacturer
Packaging Info
Package Weight
0.05 lb
Box Dimensions (LxWxH)
4.3 x 2.0 x 0.2"
Technical
Warranty
5 Years