Sandisk 64GB Ultra Dual OTG USB 3.0 Flash Drive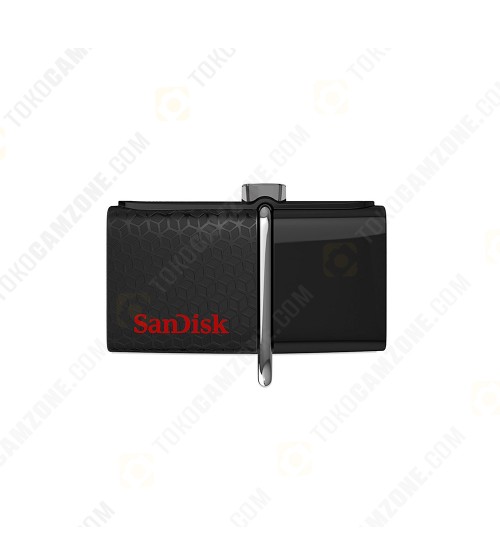 Lihat gambar lebih detail
Quickly and easily transfer your files between OTG-enabled Android smartphones and tablets1 and PC and Mac computers. Free up space to add more photos, videos, songs, and other stuff. Simply connect the SanDisk Ultra Dual USB Drive 3.0 to the micro-USB port of your Android device and move up to 64 GB** of content to the drive. Quickly transfer files at up to 130MB/s* from drive to computer with the high-speed USB 3.0 connector. Spend less time waiting to transfer a full-length movie to the drive than with a standard USB 2.0 drive3. The SanDisk Memory Zone app (available on Google Play) helps you manage your phone's memory2, making it easy to move, view, copy, or backup your photos and videos to the drive, so you're always ready to take more videos and pictures on the go.
Features
Flash Drive for Your OTG-enabled Android Devices
This is the flash drive you've always wanted, the one that makes it fast and easy to transfer or share files from your OTG-enabled Android smartphone or tablet onto your PC or Mac computer, or with other Android devices. Now your phone is always in the zone, ready to shoot more pictures and videos or add more songs on the go.
Dual Connectors Bridge Phones, Tablets, and Computers
With a micro-USB connector on one end, and a USB 3.0 connector on the other, this sleek, handy flash drive lets you move content easily between all the devices in your world—from your OTG-enabled Android smartphone to your tablet, your laptop, your Mac or PC. The USB connector is USB 3.0 enabled and backward-compatible with USB 2.0 ports
Super-Fast Transfer Speeds from Drive to Computer
Transfer from your flash drive to your computer's USB 3.0 port at the no-wait rate of up to 130MB/s**. Speed like this makes it possible to move whole movies, audiobooks, or music libraries in just seconds. And that helps make your Android smartphone the ultimate on-the-go entertainment device as well your favorite camera.
SanDisk Memory Zone App Manages Files
Download the SanDisk Memory Zone app from the Google Play™ Store** and use it to monitor available memory and efficiently manage, organize, and back up files stored on your Android smartphone.
Automatically Detected When Connected
This "plug and play" flash drive is automatically detected when you connect it to an OTG-enabled Android smartphone or tablet.
Technical
Warranty
Non Warranty