SanDisk CF Extreme PRO UDMA7 90MB/s 64GB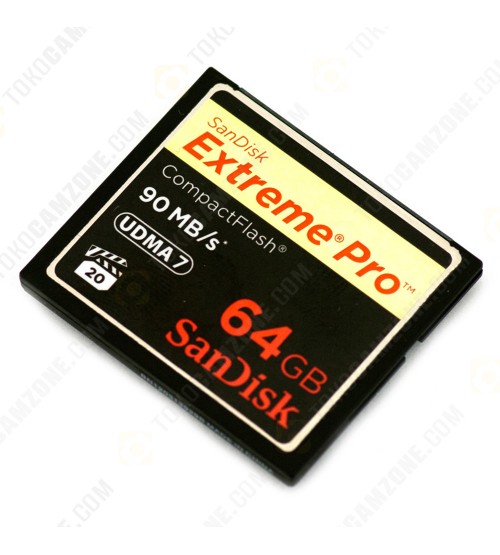 Lihat gambar lebih detail
Product Description
SanDisk 64GB CompactFlash Memory Card Extreme Pro 600x UDMAprovides 90MB per second read/write performance for the creation of professional photographic and motion picture content. Ultra Direct Memory Access 7 (UDMA-7), Enhanced Super-Parallel Processing (ESP), and proprietary Power Core Controller Technology ensure class-leading 600x performance with the highest levels of quality and compatibility available. When paired with an UDMA compliant DSLR, SanDisk Extreme Pro Cards guarantee the fastest, most reliable recording of photo and video files. Enjoy 1 year of downloadable RescuePRO media recovery software.
Power Core Controller
The all-new Power Core Controller is SanDisk's fourth generation design using advanced firmware algorithms to enhance read/write speed and endurance. ECC Engine Technology has improved four-fold over the previous generation - enhancing stability and performance.
Highly Durable
SanDisk Extreme Pro cards feature RTV silicone coating for added protection against moisture and humidity. Tested to perform in extreme cold to hot environments (-13° to 185°F / -25°C to 85°C), Extreme cards are subject to rigorous stress, shock, and vibration testing.
Large Capacities
Available in 16, 32, and 64GB sizes, SanDisk Extreme Pro CompactFlash cards offer ample space for RAW + JPEG files, high-definition video, and other rich media content.
RescuePRO Media Recovery Software
Benefit from 1 year of this downloadable software, which allows you to recover images in case of accidental deletion
Technical
Warranty
Lifetime