Yongnuo YN128 Ring Light II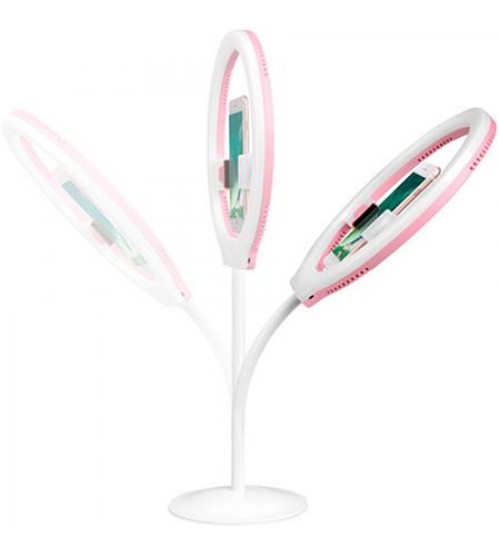 Lihat gambar lebih detail
Yongnuo, the Chinese photographic accessory manufacturer, were kind enough to send me a copy of one of their latest ring lights, the YN128.
Officially tagged a "Beautify LED Light", the Yongnuo YN128 is a bi-colour ring light aimed at a particular demographic: namely livestreamers, beauty bloggers, YouTubers and selfie lovers. It is designed to help people (not necessarily 'photographers') take better self-portraits and videos with their smartphones.
It can also be used as a general-purpose soft light for photography and video.
It is not a heavy duty device, but then it isn't heavy, either. LEDs are reasonably robust. So you can shove this in your bag and throw it around a bit, without the need for a padded case, on the basis that it's light enough that it should bounce back from most impacts. This is good, because no case is included in the box.
The YN128 comes with a flexible mounting arm with a 1/4″-20 male thread on both ends, which fixes to a weighted base for positioning on a table top. The arm is easily strong enough to take the weight of the YN128, at any angle, without any risk of the base tipping over.
Also in the box: a coldshoe-foot-to-1/4″ adapter, so you can mount the LED in your camera hotshoe, or on a light stand. I wish the flexible arm had a female thread at one end and a male at the other, so then you could mount it on a light stand or tripod without a spigot adapter (though these are easy to obtain).
Features and controls
Once plugged in (I alternated between using a USB port on my computer and a small power bank) you click the little adjustment dial on the YN128 to turn it on and spin the wheel to increase or decrease the power. Click it again to switch into colour temperature adjustment mode (and back again) and hold down the button to turn the light off.
Notice that this power/colour wheel is on the front of the lamp, not the back: you are very much expected to be the star of the show!
There is no power or colour temperature display, and it is actually quite hard to tell whether you are adjusting power or colour because both operations involve turning LEDs on and off. You will have to rely on a fair bit of trial and error to get the colour temperature and power setting you want.
The phone clamp does a good job of holding my 5.2-inch Honor 8 smartphone in place, with no worries about it falling out. The design of the clamp means you really need to be using the front-facing camera, because if you mount your phone the other way and view from the other side, then the screen will be mostly obscured by the bracket.
Performance
According to the manufacturer, the YN128 has a television lighting consistency index (TLCI) and colour rendering index (CRI) both over 95. These specifications are pretty much the best you can get; almost too good to be true, even, at this price point.
I don't have a way to measure TLCI myself to verify the spec, but can say that in general usage there was no noticeable green or magenta colour cast and the quality of light from the Yongnuo YN160 is rather pleasing to the eye. There is no flickering at any power or colour level, and the light is completely silent with no cooling fan — nor does it get warm to the touch.
The lamp—which draws 7.6 watts and puts out a claimed 1024 lumens—isn't dazzling, even in the dark, which is partly due to its large size but a double-edged sword: is the YN128 really bright enough? It isn't nearly as bright as other compact light panels, such as the Metz Mecalight L1000 that I have been testing alongside it. I also tried to use the YN128 as a fill light when using a large Nanguang CN-30FC fresnel light as main light through a softbox. Unless you turn the power of the main light all the way down (and bring up your camera settings to compensate), the light from the ring LED is so dim by comparison that it barely registers.
Light source: 128pcs of SMD LED
Color temperature: 3200K~5500K
CRI: Greater or equal to 95
External power supply: mobile phone charger, mobile power supply or computer USB interface
Technical
Warranty
3 Month Service