BOSE QUIETCOMFORT 35 II SILVER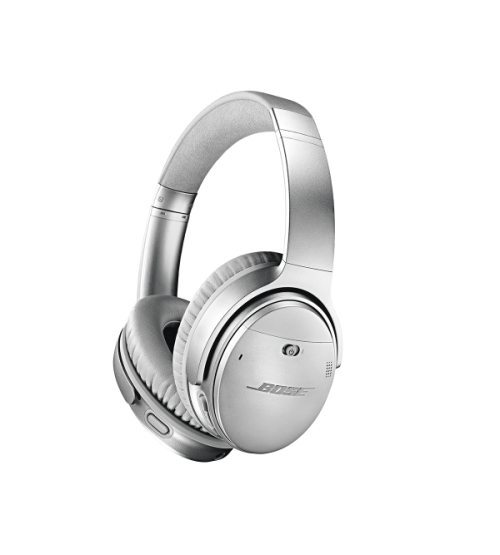 Lihat gambar lebih detail
BOSE QUIETCOMFORT 35 II SILVER Overview
Styled in a sleek black color, the Bose QuietComfort 35 Series II are wireless noise-canceling headphones. These headphones differ from the original QuietComfort 35 headphones with the addition of a button on the left earcup. Press and hold it to speak to Google Assistant or Amazon Alexa when connected to your smart assistant-enabled device. Or, use it to change the level of noise cancellation between Full, Low, or Off.
The headphones can be paired with two devices at once via Bluetooth or NFC technology, and accept voice prompts in English, Spanish, Mandarin, or Dutch, with other languages available through Bose's website. The Bose Connect app, available on the Apple App Store and Google Play, allows you to switch between multiple Bluetooth-enabled devices easily, keeping your headphones digitally up to date at the same time.

These headphones feature active noise cancellation, as well as a noise-rejecting, dual-microphone system that renders phone calls clear even in windy or noisy situations. Its Sidetone feature allows you to hear your own voice, despite the noise reduction. With one 2.25-hour charge, these headphones can stream audio for up to 20 hours; using the included 3.5mm audio cable, the QuietComfort 35's noise-reduction capabilities will last for up to 40 hours before requiring recharging.
Product Highlights :
- Three Levels of Noise Cancellation
- Bluetooth Wireless with NFC Pairing
- Noise-Rejecting Dual Microphones