Blackmagic Design DeckLink Duo 2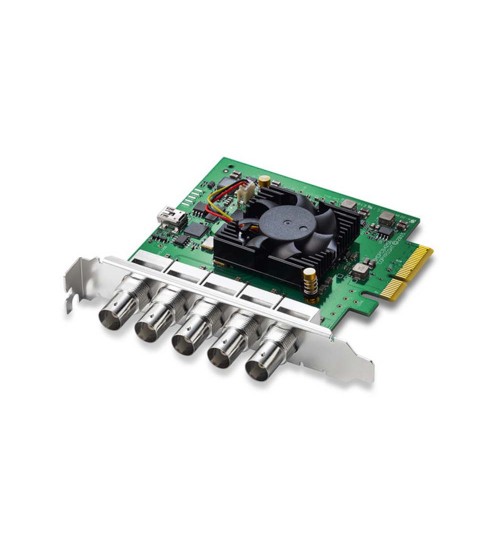 Lihat gambar lebih detail
PRODUCT HIGHLIGHTS
· SD/HD/3G-SDI Input/Output
· PCI-E Interface
· 1080p 4:4:4 by Single-Link 3G-SDI
· 10/12-Bit Processing
· Down/Up/Cross Conversions
· Mac OS X, Windows, and Linux Compatible
With four bi-directional SDI interfaces, the Blackmagic Design DeckLink Duo 2 is a versatile video I/O card for professional video workflows. Since each SDI interface can be configured to be either an input or an output, a computer with this card installed can be purposed as a media play-out system, a multi-screen digital signage server, a live keyer, a real-time multi-channel capture system, or a combination of the above to fit your specific workflow of the moment. A reference input is also available for syncing with other studio equipment.
Processing
· Colorspace Conversion: Hardware based real time
· HD Down Conversion: Built-in, high quality software down converter from HD to SD on output. Down converted SD selectable between letterbox, anamorphic 16:9 and center cut 4:3 styles.
· HD Up Conversion: Built-in, high quality software up conversion from SD to 720HD or 1080HD on input. Selectable between 4:3 pillarbox, 14:9 zoom and 16:9 zoom
· Cross Conversion: Built-in, high quality hardware cross conversion from 720HD to 1080HD, 1080HD to 720HD on playback
· Real Time Effects Support: Final Cut Pro X internal effects, Premiere Pro CC Mercury Playback Engine effects, Avid Media Composer internal effects
Software Compatibility
The DeckLink Duo 2 interfaces with many popular NLE, DAW, and professional software programs including:
· Blackmagic Design: DaVinci Resolve, Fusion 8
· Apple: Final Cut Pro X
· Adobe: Premiere Pro CC, After Effects CC, Photoshop CC
· Avid: Media Composer, Pro Tools
· Stienberg: Cubase, Nuendo
For an up-to-date list, see the Blackmagic Design website
Technical
Warranty
Non Warranty