Bose SoundLink Flex Wireless Speaker (Black)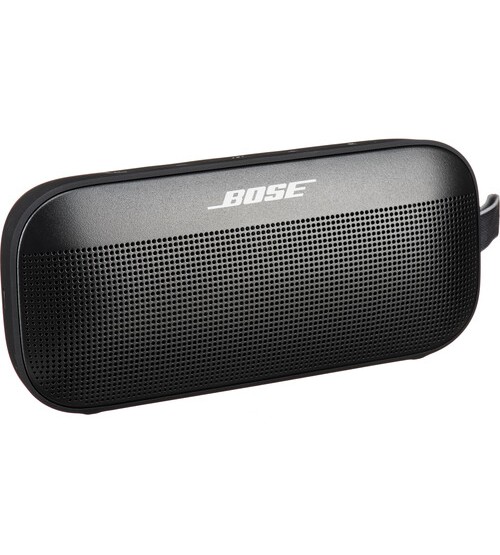 Lihat gambar lebih detail
Bose SoundLink Flex Overview
Elevate your audio experience on your next outdoor adventure with the SoundLink Flex Wireless Speaker from Bose in black. The SoundLink Flex is engineered to withstand the elements and physical abuse, all while producing Bose's signature clear and crisp audio, with balanced treble and bass. Its ruggedness can be chalked up to the powder coated steel grille, silicone exterior, and IP67 rating that makes the Flex dustproof and waterproof—it can even float in water if dropped. So, take it to the beach and use it while you're paddleboarding, working in your garage, or playing outside, and enjoy high-quality audio without worrying about water or the elements.
PositionIQ Technology

Bose knows that outdoor activities can be unpredictable. The SoundLink Flex might find itself standing, lying flat, or even hanging from its tear-resistant utility loop. This is why Bose uses PositionIQ technology, which can detect the speaker's orientation and automatically adjust its audio playback to optimize sound quality for any position.
Pair with Other Speakers
Two heads are better than one. A saying that also applies to the SoundLink Flex wireless speaker. The SoundLink Flex can be paired with a second Flex or any other Bose Bluetooth-compatible speaker. Pairing two speakers can enable Party Mode, which lets the same audio play from both speakers, allowing you to enjoy music throughout your home or in more spots outside. If you connect the Flex to a Bose Smart Soundbar, you can leave the room and take the Flex with you to continue listening to the news or sports game.
Speakerphone
A built-in microphone acts as an extension to your paired mobile device's microphone. This gives you the ability to use the SoundLink Flex as a speakerphone for hands-free calling.
Bose Connect App
Use the iOS or Android Bose Connect app with the SoundLink Flex to personalize your experience. You can use it to adjust settings, pair an additional speaker, unlock new features, update firmware, and more.
Additional Features
- Up to 12 hours of battery life
- Powder coating is resistant to rust and UV light and will not peel or flake
- Up to 30' wireless Bluetooth range
- Remembers the last 8 recently connected devices for even faster pairing
- Integrated control panel