Canon Battery Grip BG-E11 for EOS 5D Mark III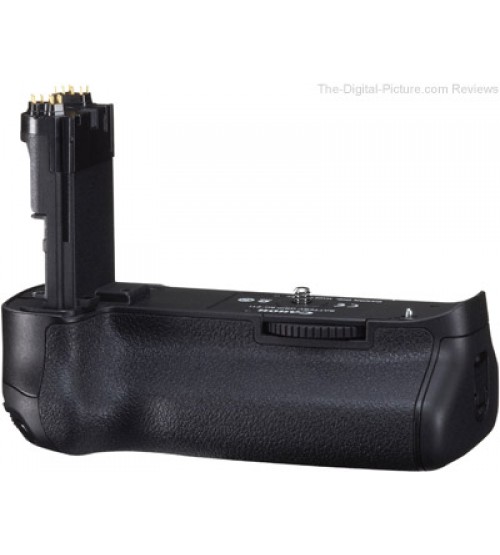 Lihat gambar lebih detail
The Canon BG-E11 Battery Grip is the battery grip designed for the Canon EOS 5D Mark III DSLR. All of Canon's Battery Grips are fundamentally similar to each other in design and functionality, and once again, the Canon BG-E11 Battery Grip includes the basics.
DSLRs without a built-in vertical grip (all non-1-Series bodies at this time) have the advantage of being compact and light, but these bodies are not comfortable to shoot with in portrait/vertical orientation - especially for long periods of time. An accessory battery grip solves this problem by adding a vertical grip complete with shutter release and other relevant buttons. And, the grips allow a second battery to be used for double the battery life.
To install the Canon BG-E11 Battery Grip, the LP-E6 Battery is removed from the 5D III and the battery door is detached. The 5D III provides a small spring-loaded latch release switch on the battery door to make its removal especially easy. The battery door then attaches to (installs into) the grip for storage (snapping into place over a small instruction diagram).
The BG-E11 slides up into the empty battery compartment and locks into place via the tripod socket screw on the BG-E11. The BG-E11 provides its own tripod adapter threads - this functionality is not lost.
The Canon BG-E11 Battery Grip holds two Canon LP-E6 Batteries that deliver double the number of shots or video time from the DSLR. Alternatively, use 6 readily available AA batteries in the included Canon BGM-E11A Battery Magazine (a small nylon bag is now provided to store the unused battery magazine in). The BG-E11 works fine with only one LP-E6 battery - a second LP-E6 battery is not required.