Canon CN20x50 Cine Servo 50-1000mm T5.0-8.9 IAS H (EF Mount)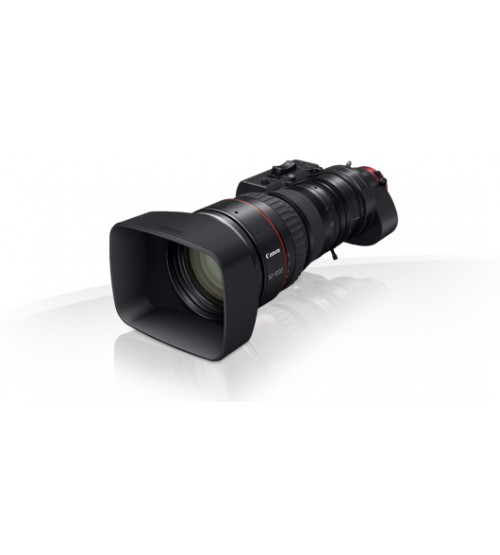 Lihat gambar lebih detail
Class-leading ultra-telephoto 4K CINE-SERVO lens
An ultra-telephoto CINE-SERVO lens, the CN20 x50 IAS H E1/P1 offers stunning 4K performance, 20x zoom and a 1.5x built-in extender for an unrivalled 50-1000mm focal length (75-1500mm with extender). Ideal for sports events and wildlife applications.
Benefits
Ultra-telephoto lens with class-leading focal length

Capture every detail in sports and nature TV broadcast

Achieve stunning shots in outstanding 4K quality

Enjoy a wide variety of shooting and expression

Carriable and durable with intuitive operation
Detailed Features
Superb 4k performance
The CN20x 50 IAS H E1/P1 offers outstanding 4k quality - from image centre to image edge. Designed for Super 35mm cameras using Canon's renowned optical expertise it enables a wide variety of shooting and expression and incorporates an 11-blade diaphragm to deliver softer, more attractive out of focus areas. The lens is available in both EF and PL mount versions.
Class leading ultra-telephoto lens
An unrivalled 20x zoom together with an in-built 1.5x extender deliver a class-leading focal length spanning 50mm up to 1500 mm. Carriable and lightweight it is the ideal field lens for sport events and wildlife applications with high optical performance across the entire zoom range. It is also both weatherproof and shockproof for excellent durability in any shooting environment.
Designed for broadcast shooting
The CN20x50 IAS H E1/P1 employs a servo drive unit, enabling use in broadcast-style shooting environments where cine lenses are impractical. The compact design weighs only around 6.6kg and offers a familiar and intuitive operating experience. It's ideal for tripod-based and virtual studio use. Focus ring rotation is 180o, balancing the accuracy required for 4K imaging with the speed needed for broadcast use.
Perfect for cinematographers
This lens is also ideal for cinema-style applications. The servo drive unit is easily removed for operation as a traditional cine lens – and just as easily re-installed. No adjustment of gear positions is required, enabling a fluid, versatile shooting style previously unavailable with large sensor cameras.
The lens is fully compatible with industry-standard accessories and matte boxes as well as 0.8 and 0.5 type gear module accessories such as follow focus units. The font diameter is Φ136mm. It's also colour-matched, for easy integration from the Canon cinema lenses range.
Versatile camera/lens communication
For added versatility the CN20x50 IAS H E1/P1 supports multiple lens communication methods. Canon's EF-mount version supports lens metadata and other functions such as Peripheral Illumination Correction. A 12-pin serial connection provides a compatible interface for broadcast environments. Cooke /i Technology is supported in the PL-mount variant, allowing capture of lens data by cameras often used in productions environments.
Specification

Focal Length

50 - 1000mm (75-1500mm w/ 1.5xEXT)

Zoom Ratio

20 x

Image Size

Super 35mm

Maximum Relative Aperture

T5.0 at 50-560mm
T8.9 at 1000mm
T7.5 at 75-840mm
T13.35 at 1500mm(1.5x)

Iris Blades

11

Angular Field Of View

1.78:1 - 24.6x13.8mm

27.6°x 15.7° - 1.4°x 0.8°

(1.5x) 18.6°x 10.5° - 0.9°x 0.5°

1.9:1 - 26.2x13.8mm

29.4°x 15.7° - 1.5°x 0.8°

(1.5x)- 19.8°x 10.5° - 1.0°x 0.5°

MOD from Image Sensor

3.5m / 11.5

Object Dimensions at MOD

1.78:1- 24.6x13.8mm

139.3 x 78.1cm at 50mm / 7.3 x 4.1cm at 1000mm

(1.5x)92.9 x 52.1cm at 75mm / 4.9 x 2.7cm at 1500mm

1.9:1- 26.2x13.8mm

148.3 x 78.1cm at 50mm - 7.8 x 4.1cm at 1000mm

(1.5x) 98.9 x 52.1cm at 75mm - 5.2 x 2.7cm at 1500mm

Pitch of Focus/Zoom/Iris Gear

Focus : 0.8/0.5

Zoom : 0.5

Iris : 0.5
Technical
Warranty
PT Datascrip