Canon EF 24-70mm f/4L IS USM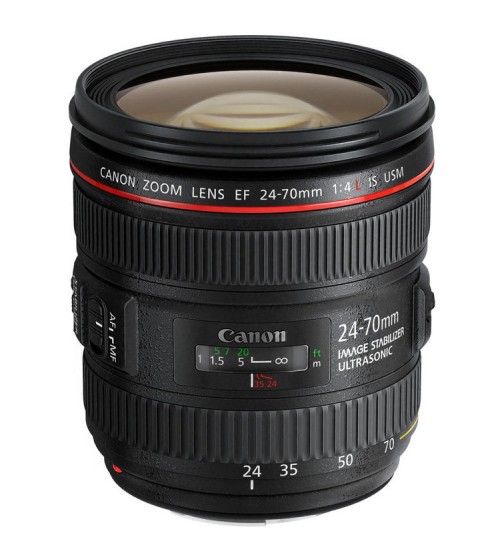 Lihat gambar lebih detail
The
EF 24-70mm f/4L IS USM Lens
from
Canon
is optimized for full-frame 35mm sensors, and another entry into Canon's high quality L-series of lenses. It has two Super Ultra-low Dispersion (Super UD) and two standard UD lens elements working together to minimize chromatic aberrations, and reduce color blurring around the edges of your subject. Its two types of aspherical elements combine to help reduce spherical aberration over the entire image area and the full zoom range. Optimized lens coatings help ensure exceptional color rendering while minimizing ghosting.
Its ring-type Ultra Sonic Motor (USM) and high-speed CPU, with optimized AF algorithms, ensure you experience quick, quiet and precise autofocusing whenever you need it. The lens has improved dust and water resistance to protect it from damage outdoors, while fluorine coatings on the front and rear lens surfaces resist fingerprints and smearing. The circular nine-bladed diaphragm delivers beautiful, soft background effects. A zoom lock lever holds the zoom position at the 24mm wide end for safe transporting while attached to an EOS DSLR camera over the shoulder - preventing lens creep.
Hybrid Image Stabilization (IS)

Introducing image stabilization to their 24-70mm L-series lenses, Canon's Hybrid IS provides four stops of effective shutter speed compensation for both types of camera shake when shooting macro photography: angular and shift. This means you can shoot in dimmer conditions, capturing images with shutter speeds up to four stops slower than would otherwise be possible.
Dual UD & Super UD Lens Elements

This lens' optical design utilizes two Super UD and two UD lens elements to minimize chromatic aberration in the edges of your wide-angle shots. It also eliminates color blurring around the edge of your subjects, for images with greater resolution and contrast.
Dual Aspherical Lens Elements

In addition to the UD elements, this lens combines two types of aspherical lenses to reduce spherical aberration and achieve high image quality across both the entire screen area and throughout the full 24-70mm zoom range.
Ring-Type Ultra Sonic Motor (USM)

A ring-type USM and high-speed CPU with optimized AF algorithms enable silent and fast autofocusing to help you focus right on the action.
Minimum Focusing Distance: 1.25'

This lens has a minimum focusing distance of 1.25' (0.38 m) across the entire zoom range, excluding the macro mode.
Macro Mode With 0.7x Magnification

Full macro shooting is possible thanks to the Macro Mode Switch. With up to 0.7x magnification, it is easily accessible with a one-touch switch at the 70mm telephoto end of the zoom range.
Manual Focus Override

In One Shot Autofocus mode manual focus can be applied for exacting precision.
Weather Resistant to Dust & Moisture

This lens is highly resistant to dust and water, allowing you to shoot in harsh conditions when necessary.
Fluorine Coatings Reduce Fingerprints

Fluorine coatings on both the front and rear lens surfaces resist smears and fingerprints.
Zoom Lock Lever

Keep your lens from unintentionally extending, or creeping, when you don't want it to with the Zoom Lock lever. It locks the zoom position at the wide end for safe transporting, when the lens is most compact.
9x Circular Aperture Blades

With nine circular blades, the lens' diaphragm delivers soft, pleasant bokeh background effects.
Technical
Warranty
PT Datascrip