Coman Tripod TM-227C + CM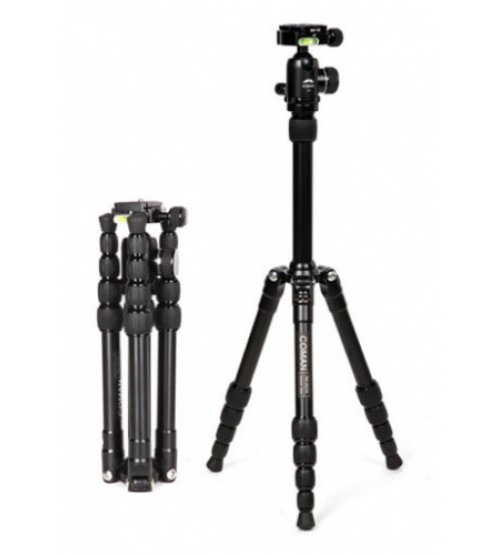 Lihat gambar lebih detail
Specification
Sections : 5
Max. D : 22mm
Min. D : 9mm
Max. H : 1330mm
Normal H : 1190mm
Macroshot : 360mm
Folded : 300mm
Weight : 1.17g
Max. Load : 6kg
Quick-Release Clamping
Using international standard lock system, which is also compatible with other kinds of famous brands in the market.
01. Quick-Release clamping knob
02. International standard 1/4 camera screw
03. Non-slip rubber (can reduce camera base wear)
04. Double level
05. Non-slip nail
Lengthen Guard Rail and Safety Stop Nail Design
The international standard safety stop nail design can stop the gears from falling off by accident.
Non-oval Ball and double groove design
The body of leg pipe is made of high strength aluminium alloy.
High quality Aluminium Materials
The body of the leg pipe is made of high strength aluminium alloy.
Adjustable Leg Angles
For an extra measure of flexibility, Coman tripod legs can be independently locked into place at high, middle and low angles with it press type gear control design. The mental parts are made of newly developed anodizing and high-temperature corrosion resistant varnish baking treatment.
Tripod legs can be inverted and folded back 180 degree.
So as to make it small enough to carry just about anywhere.
Special Center Column Design
You can raise the height of the center column or lock the center column through this knob.
Leg Section Locking System
Fast locking knob design which allows you to set up your monopod in seconds. You only need to loosen your locking knob by no more than 90 degree then you can spread your monopod leg.