CreHiVi HV-HCA14 HD 4K Audio and Video Capture Type-C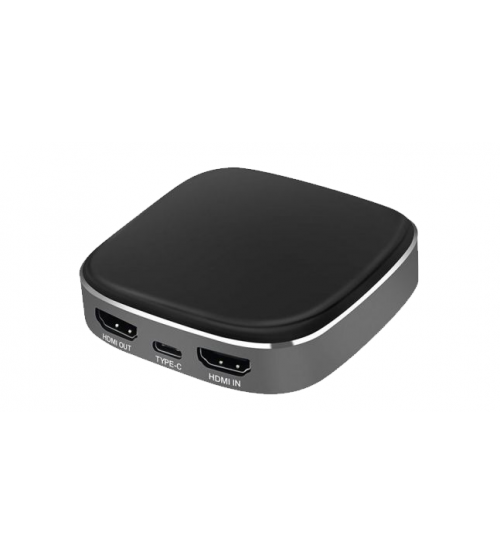 Lihat gambar lebih detail
Feature
1. Can capture single HDMI video signal
2. Record resolution up to 1080p / 60Hz, others's maximum resolution,
please refer to the point 3(Model comparison ) 3. Support MJPEG and YUY2
4. Support UAC&UVC protocol, support 48 KHz PCM audio sampling rate
5. Partial need to install the driver on some win7
6. Compatible with Windows 7, 8, 8.1, 10, Linux OS, Mac OS operating
system
7.USB3.0/Type-C output, up to 300~350MB / s bandwidth, compatible with
USB 2.0
8. Can automatically detect the input video format and automatically adjust
the output resolution and frame rate
9. Can automatically detect the input audio format and convert it to 48KHz
PCM audio
10. 2 captures can be used on one PC
11. Support firmware online upgrade to better compatibility
12. The picture quality is clearer, the RGB color range is 0~255
13. Support all third-party player which is compatible with UVC and UAC
protocols
14. Model HCA07 supports mobile phone live broadcast, model
HCA12/HCA13/HCA14 does not support
HDMI to USB3.0/Type-C video capture device has superior performance, good compatibility, simple installation and powerful functions. It can capture a single HDMI input signal, support HDMI Loop-out (except model HCA11), compatible with Windows 7, 8, 8.1, 10, Linux OS, and USB 3.0/Type-C interface of Mac OS. Compatible with a variety of USB3.0 chipsets (Intel, Renesas, ASMedia, Fresco Logic), backward compatible with USB2.0. Its USB3.0 and Type-C output meets UVC and UAC standard,without having to install drivers and settings ,the real plug-and-play,easy to use.