Deity Microphones V-Mic D3 Pro With Location Kit Supercardioid On-Camera Shotgun Microphone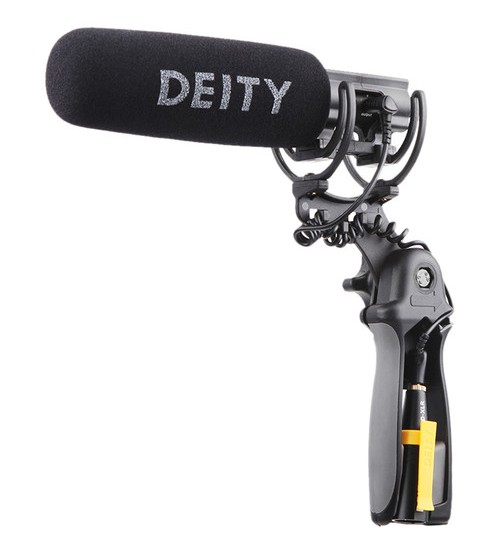 Lihat gambar lebih detail
Deity Microphones V-Mic D3 Pro Supercardioid On-Camera Shotgun Microphone with Rycote Lyre Suspension
The Deity Microphones V-Mic D3 Pro is a supercardioid on-camera shotgun microphone offering directional audio capture, adjustable gain and filtering, and broad device compatibility for videographers, YouTubers, and sound recordists. With a built-in microprocessor that automatically configures its TRRS connector to work with most 3.5mm mic input jacks, the V-Mic D3 Pro is compatible with a variety of DSLRs, camcorders, mobile devices, and portable audio recorders. Setup with your camera is simple and efficient using the supplied Rycote Lyre adjustable shoe shockmount and 3.5mm TRRS coiled cable.
The pre-polarized condenser capsule utilizes a supercardioid polar pattern, which yields low off-axis coloration, high SPL handling, and a high signal-to-noise ratio. Boasting a 50 Hz to 20 kHz frequency range with low noise and distortion, the V-Mic D3 Pro adheres to the demanding standards of high-resolution recording. A stepless dial on the mic's bottom provides up to 20 dB of gain for easy optimization of levels. Activate the onboard low-cut filter at 75 Hz or 150 Hz to reduce rumble and bass buildup.
The microphone is powered by the internal 51-hour rechargeable battery; automatic power saving conserves battery life by shutting down the V-Mic D3 Pro after 15 minutes of standby time. The lightweight aluminum body is finished in a low-reflection paint, ensuring that it won't weigh down your camera or induce distracting glare. The V-Mic D3 Pro includes a foam windscreen to minimize noise from wind or HVAC systems.
You Should Know
Some TRS-equipped cameras from Blackmagic, Fuji, and Olympus require a 3.5mm TRS cable (available separately) for operational compatibility.
Auto-Configuring 3.5mm Connector
The V-Mic D3 Pro incorporates a microprocessor that automatically adapts its 3.5mm TRRS connector to work with most 3.5mm microphone jacks. Out of the box, the V-Mic D3 Pro is compatible with many DSLRs, camcorders, smartphones and tablets (late-model iOS devices require Apple's Lightning to 3.5mm headphone jack adapter), portable audio recorders, bodypack transmitters, and laptops.
Stepless Gain Knob
The V-Mic D3 Pro features a stepless analog gain dial. Integrated bump guards help prevent the dial from being accidentally rotated. The gain (up to 20 dB) is added on a linear scale, so you can dial in the exact amount of boost you need for the shot.
Selectable Low-Cut Filtering
Attenuate low-frequency rumble with the V-Mic D3 Pro's low-cut filter, selectable at 75 Hz or 150 Hz. Rather than using a sunken switch that requires a pointed object to flip, the V-Mic D3 Pro opts for a single top-mounted button.
Low Off-Axis Coloration
The V-Mic D3 Pro's pickup pattern remains similar across essential frequencies, yielding low off-axis coloration. Novice and experienced videographers can capture consistent audio quality when dealing with sources that vary their positions.
Low-Noise Electronics
Thanks to the 14mm condenser capsule and low-noise, low-distortion electronics, the V-Mic D3 Pro provides clean audio, which means less time spent in post-production processing your tracks with noise-reduction software.
Long Battery Life
The V-Mic D3 Pro uses a built-in 320mAh lithium battery, which powers the mic for up to 51 hours. Unnecessary battery usage is avoided by an automatic power-off function that turns off the V-Mic D3 Pro after 15 minutes in standby mode. The internal battery recharges via USB in approximately two hours.
Convenient Accessories
The included foam windscreen reduces wind noise and handling noise. The Rycote Lyre adjustable shoe shockmount minimizes the transfer of vibrations by decoupling the mic from your camera. Connect the V-Mic D3 Pro to your device via the supplied 3.5mm TRRS coiled cable. Store and transport the entire bundle in the included semi-rigid nylon carrying pouch.
Deity Microphones D-XLR 3.5mm to XLR Adapter with Phantom to Plug-In Power Conversion
The Deity Microphones D-XLR is a sonically transparent 3.5mm to XLR adapter with phantom to plug-in power conversion designed to allow 3.5mm-equipped mics to be used with XLR-equipped mixers and recorders, making it a welcome tool for sound recordists and videographers. Connect your Deity V-Series microphone (or other mic terminated with a standard 3.5mm TRS plug) to the D-XLR's gold-plated 3.5mm input, then route the XLR 3-pin output via a standard XLR cable (available separately) to your mixer, portable audio recorder, or external microphone preamplifier.
The D-XLR converts 12 to 48 VDC phantom power from your mic preamp to 3V plug-in power, which is required for operation of many 3.5mm-equipped microphones. The CNC-machined aluminum housing ensures rugged durability, and is sized to work with pistol grips and boompoles.
Convenient Power Conversion
The D-XLR can convert 12 to 48 VDC phantom power down to 3V plug-in power, which allows microphones with 3.5mm TRS connectors to run off phantom power. The D-XLR is specially designed for Deity V-Series mics to trigger their Smart 3.5mm TRRS outputs with bias power from a standard XLR input.
Use On-Camera Mics Off Camera
The D-XLR allows on-camera mics such as the V-Mic D3 PRO (available separately) to be used on a boompole for clearer audio during interviews and scene shoots. At the same time, the D-XLR has no adverse effect on microphones like the V-Mic D3 PRO in terms of signal-to-noise ratio, total harmonic distortion, and sensitivity. The 3.5mm TRS jack is gold-plated so that contacts on the plug make a better connection and do not loosen.
Works with Boompoles and Pistol Grips
The D-XLR was specially designed to fit in the groove of the Rycote pistol-grip shockmount handle. The snug fit and rubber surface offer more than enough friction to hold it in place while swinging a boompole.
Broad Microphone Compatibility
The D-XLR is compatible with Deity's V.Lav, V-Mic D3, and V-Mic D3 Pro microphones, as well as most other mics outfitted with a standard 3.5mm TRS jack. Though the D-XLR does not support 3.5mm-equipped lavalier mics wired for Sony UWP, the Deity V-Series microphones can function when plugged into a Sony UWP system.
Analog Performance
Sound Field

Mono

Operating Principle

Pressure Gradient

Transducer

Condenser

Diaphragm

0.55" / 14 mm

Tube

No

Polar Pattern

Supercardioid

Frequency Range

50 Hz to 20 kHz

Signal to Noise Ratio

84 dB

Maximum SPL

130 dB SPL

Pad
None
THD

< 0.1%

Impedance

200 Ohms

Sensitivity

-24 dB at 1 kHz

Low-Cut Filter
@ 75 Hz
@ 150 Hz
Dynamic Range

114 dB
General
Output Connectors

1 x

1/8" / 3.5 mm TRRS
Battery Type

1 x

Built-In
Length

7.44" / 189 mm

Diameter

0.83" / 21 mm

Weight

5.04 oz / 143 g
Packaging Info
| | |
| --- | --- |
| Package Weight | 1.3 lb |
| Box Dimensions (LxWxH) | 10 x 5.5 x 4" |
Deity Microphones D-XLR 3.5mm To XLR Adapter With Phantom To Plug-In Power Conversion
General
| | |
| --- | --- |
| Input | 1/8" / 3.5 mm TRS Female |
| Output | XLR 3-Pin Male |
| Voltage | 12 to 48 VDC Phantom Power |
| Bias Voltage | 3 V |
| Signal-to-Noise Ratio (SNR) | 80.9 dB |
| Total Harmonic Distortion (THD) | 0% |
| Construction Material | CNC-Machined Aluminum |
| Dimensions (H x W x D) | 2.7 x 0.7 x 0.7" / 69.7 x 19.0 x 19.0 mm |
| Weight | 1 oz / 29.2 g |
Packaging Info
| | |
| --- | --- |
| Package Weight | 0.07 lb |
| Box Dimensions (LxWxH) | 5.5 x 3.5 x 0.9" |
Technical
Warranty
1 Year