Elgato Cam Link 4K BROADCAST LIVE STREAM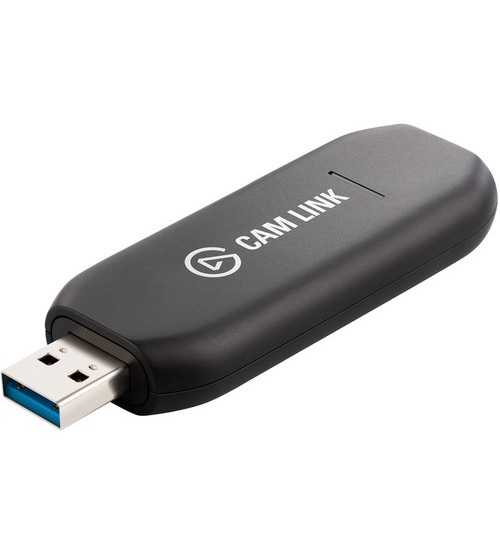 Lihat gambar lebih detail
Elgato Cam Link 4K Overview

Record or stream an HDMI signal via USB 3.1 Gen 1 with the Cam Link 4K from Elgato Systems. With its HDMI input, this capture device will accept resolutions up to 3840 x 2160 at 30p. If you need to stream or record at a lower resolution, the Cam Link 4K can also work at 1080p, 1080i, and 720p.
The Cam Link 4K uses a plug-and-play design with its USB Type-A connector and HDMI port. Compatible with both Windows and Mac computers, the Cam Link 4K includes a USB 3.1 Gen 1 extension cable so you can connect to devices from a distance.
Level Up Your Content
For those who want their content to be visually captivating, you can use the Cam Link and hook up your DSLR, camcorder, or action cam to your Windows or Mac system.


Plug & Produce
Coupled with Cam Link, your camera appears as a webcam in all your favorite apps, including Game Capture, OBS, and Skype. Up to 1080p at 60 fps or 4K at 30 fps resolution keeps your stream professional while ultra-low-latency technology gets you up and running on YouTube, Facebook Live, Twitch, and more.


Simplify Your Workflow
Say goodbye to maxing out your memory card mid-shoot. When recording with Cam Link, all content is stored directly on your hard drive, while real-time, full-screen feedback lets you edit scenes on the spot.


It's Showtime
Whatever you wish to shoot, the Cam Link puts it live on your screen for mass distribution. All you need to do is connect your camera and let the show begin.


System Requirements
>> 4th-generation Intel Core i5 quad-core processor
>> An available USB 3.1 Gen 1 port
>> Windows 10 (64-bit) or macOS Sierra 10.12