FeelWorld LUT7 7" 3D LUT 4K HDMI Monitor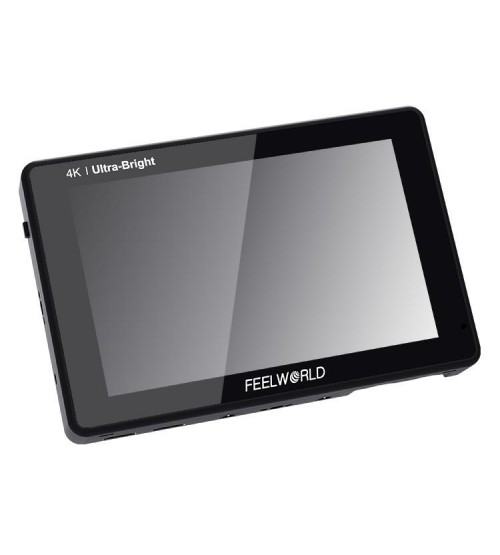 Lihat gambar lebih detail
The FeelWorld LUT7 7" Touch Screen On-Camera Monitor equips filmmakers with the benefits of a large on-camera display without making the camera set up feel cumbersome. The LUT7S is packed with high-end monitoring features in a small, lightweight package that can be connected to virtually any camera. The front features a large high resolution, daylight viewable LCD touchscreen, there are video connections on the bottom and SD card slot on the side, and space for two NP-F batteries on the back.
The outer frame features standard ¼" mount points on the bottom, left and right for attaching it to cameras and rigs. This design detail makes the LUT7S easy to attach to a camera and easy to share with a team member or client on set.
Key Features:
More Resolution, Less Reflection
The FEELWORLD LUT7S enables clear and precise field monitoring and image analysis during daytime shoots. It displays your stills and monitoring content at superior color fidelity and 1920 x 1200 maximum resolution on a 7-inch display. The panel is made of optically bonded glass with an anti-reflective coating, which allows comfortable daytime field monitoring. But what really sets it apart is its light-emitting diode (LED) backlighting, which outputs a brightness of 2200 nits and displays a 1200:1 contrast ratio and sRGB / Rec.709 Color Gamut, resulting in exceptional screen clarity even in intense lighting conditions. With the monitor displaying your content at 323 pixels per inch (PPI), you can shoot in broad daylight with confidence and refine your content on the spot. The wide 160º viewing angle makes it easy for multiple members of the crew to watch it at the same time.
2200nit Daylight Viewable
The 7" 1920 x 1200 monitor not only has the resolution and pixel density to make every shot look amazing, the 2200 nit screen are almost 4 times the brightness of conventional field monitors lets you shoot outdoors without reflections washing out your image. This makes it easy to see outdoors without a hood, making it easy for outdoor shooting in bright daylight!
Light Sensor for Auto Dimming
And LUT7S has an ambient light sensor that detects ambient light levels and automatically adjusts the screen brightness. It ensures that the screen is readable in different environments and always protects your eye. Increasing the screen brightness compensates for bright sunlight when used outdoors, while a dimmer screen is more comfortable on the eyes when viewing in the dark.