Glidecam Body-Pod (For use with the 2000 Pro/4000 Pro/HD 2000/HD 4000)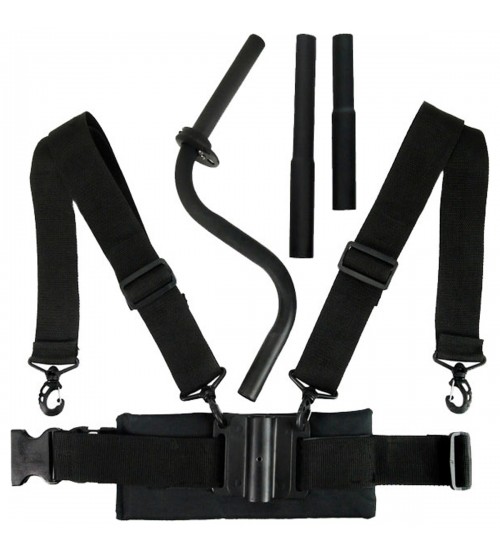 Lihat gambar lebih detail
The Glidecam Body-Pod is a lightweight rigid support system which lets you shoot in cushioned comfort for indefinite periods of time. By taking the weight of the stabilizer off your hands and arms and placing it onto your waist and shoulders, the Body Pod virtually eliminates stress and fatigue, allowing you the freedom to shoot events that require uninterrupted shooting.

The Body Pod is designed to allow you to quickly slide the handle of either the Glidecam 2000 Pro, Glidecam 4000 Pro, Glidecam HD-1000, Glidecam HD-2000 or Glidecam HD-4000 on and off its rigid support, permitting quick back and forth switching between handheld stabilization shooting and body mounted shooting.
Use the system while on the move, such as when walking up and down stairs around your subject matter. You can also become a sort of mobile tripod, maintaining your position while shooting, yet being able to quickly and easily change shooting location, based upon the shooting requirements.
The Body Pod is especially suited for commercial, industrial and corporate videography, such as weddings, real estate videos, sporting events, etc. The system allows you to leave your tripod behind, rendering you free to move about and shoot from places you would normally be unable to shoot quickly from.
Since the support of the Body Pod is rigid, and for the most part, inflexible, it will not absorb and smooth out camera movements as well as a Stabilizer which is being held in just your hands. However, shooting with your Stabilizer attached to the rigid support of the Body Pod still yields results that are far better than unstabilized, hand held shooting or shoulder-supported shooting. Once you get the feel of using the Body Pod, you won't shoot anything without it.
Compatibility
Glidecam 2000 Pro
Glidecam 4000 Pro
Glidecam HD-1000
Glidecam HD-2000
Glidecam HD-4000
Technical
Warranty
Non Warranty