Aputure Amaran Tri-8c Bi-Color LED Light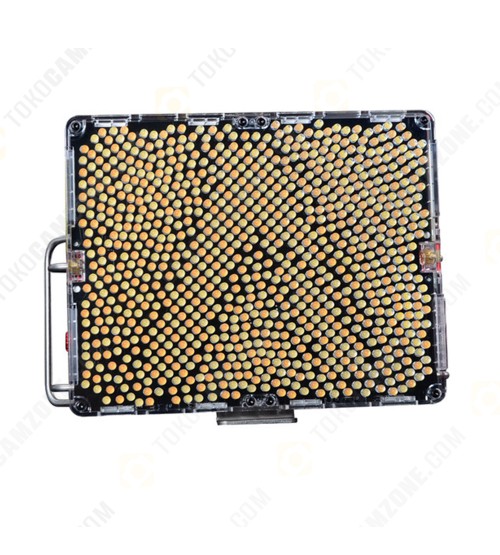 Lihat gambar lebih detail
Product Highlights
Color Temperature: 2300-6800K
Measures 10.3 x 7.8 x 3.6"
Wireless Remote, 492' Range
AC Adapter, 2 x F970 Batteries
10.8 x 9.25" EZ Box
High TLCI/CRI of 95
600W Tungsten Equivalent
Quiet Convection Cooling
Includes Carry Bag.

---

The Amaran Tri-8c Bi-Color LED Light with V-Mount Battery Plate from Aputure is a powerful, full-featured 10.3 x 7.8 x 3.6" LED light source with a rugged aircraft-grade aluminum body and an impact-proof casing that protects its 888 LEDs. The Tri-8c has a color temperature that's variable from a warm 2300K to a cool 6800K or anywhere in between to match other fixtures, ambient light situations, or just for creative effects. Light intensity is also variable and can be adjusted along with the color temperature on the fixture or at distances up to 492' with the included 3-channel wireless remote control. The light has a 45-degree beam angle for medium-wide coverage, an output equivalent to a 600W tungsten source, and a high CRI/TLCI rating of 95+, indicating accurate color rendering. Like all LED lights, this one runs barely warm to the touch thanks to a quiet fanless thermal management, making for a cooler studio and comfortable talent.

The Tri-8c can be stand-mounted via its 1/4"-20 tap or handheld vertically or horizontally by using the stainless steel U-handles at the back of the fixture. The Tri-8c is ready for worldwide use thanks to the inclusion of a 100-240 VAC adapter but it can also run on V-Mount-type batteries when mains power is unavailable. An EZ Box softbox is provided to soften the Tri-8c's output while adding a flattering quality of light with manageable contrast. A carry bag is also included.

High Power, Small Package

The Amaran Tri-8 packs impressive power in a small package. It packs 888 high-CRI (95+) LEDs into a 10.3 x 7.8" panel. The high LED count means the Tri-8 is capable of outputting 23,000 lux @ 1.6', which is equivalent to a 600W tungsten fixture.

AC or Battery Power

You can run the Tri-8 on mains current with the included adapter or on battery power thanks to the inclusion of two F970 batteries.

Thermal Management

The Amaran Tri-8 has a fanless thermal management system. With gold lamp beads on the inside, a custom aluminum plate, and the external increase of the flow-type cooling fins, cooling is maximized across the unit.

Solid Metal Build

The rugged Amaran Tri-8 has an aircraft-grade aluminum body and slim design, allowing for efficient heat airflow while maintaining a durable structure. To further enforce its durability, the LED bulbs are covered by an impact-proof polycarbonate casing.

Functionality and Portability

The stainless steel handles in the back of the light allow you to position the light either vertically or horizontally. The light can be used on a stand, or handheld for fast-paced on-the-go shoots.

EZ Box Included

The Amaran Tri-8 comes with an EZ Box to maximize your light-shaping capabilities. The EZ Box softbox prevents spill light, reduces contrast, and provides high quality diffusion. Since the Tri-8 is virtually the same size as the 528/672, the EZ Box and grid are also compatible with this new light fixture. This also includes a growing list of third party softbox offerings that can work with the Amaran Tri-8.

VA Remote Included

The Amaran Tri-8 comes with the same 2.4 GHz remote used on most of Aputure's lights. The VA remote has three channels, four groups, and works up to 492' away. Using the remote, you are able to control the brightness and color temperature of the Tri-8.

Specifications :

Light Source
888 LEDs, 100,000 hour lamp life
Color Range
2300-6800K
CRI / TLCI
95+
Beam Angle
45°
Dimming
Yes
Photometrics
2137 fc / 23,000 lux @ 1.6' (0.5 m)
604 fc / 6500 lux @ 3.3' (1.0 m)
Tungsten Equivalent
600 W
Operating Voltage
Input: 100-240 VAC, 50/60 Hz
Power Supply: DC 15 V
Power Consumption
60 W
Cooling
Convection (no fan)
Remote Control
Frequency: 2.4 GHz
Channels: 3
Groups: 4
Range: 492' (150 m)
Mount
1/4"-20 tap
Dimensions
Light: 10.3 x 7.8 x 3.7" (26.1 x 19.9 x 9.3 cm)
Softbox: 10.8 x 9.3 x 3.5" (27.5 x 23.5 x 8.9 cm)
Softbox Diffuser: 11.6 x 10.4" (29.5 x 26.5 cm)
Weight
10.87 lb / 4.93 kg

Packaging Info
Package Weight
11.45 lb
Box Dimensions (LxWxH)
15.8 x 10.8 x 6.6"



Technical
Warranty
Non Warranty