Kamlan for Fuji 28mm f/1.4 APS-C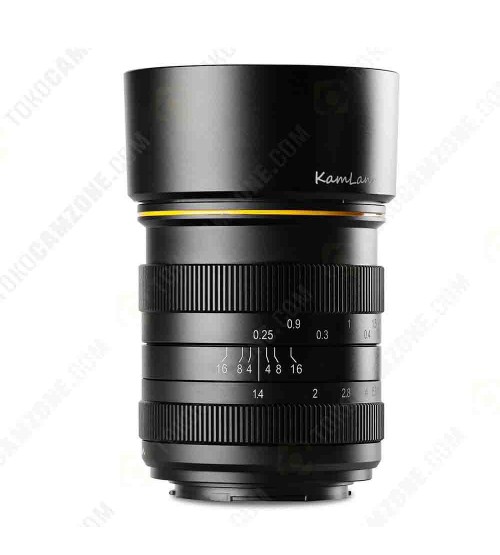 Lihat gambar lebih detail
Why Kamlan 28mm f/1.4 ?
The Kamlan 28mm f/1.4 features an all metal and glass design, similar to the 50mm f/1.1. Extremely compact
with a diameter of 56mm (2.2") and a length of 68mm (2.7"). It easily fits in the palm of your hand and is a great physical match to your cameras.
The large and bright f/1.4 aperture allows for great results in low light conditions and also the ability to create beautifully soft backgrounds.
It also allows for more control over the depth of field, letting you choose what will be in focus
Bright and Fast F/1.4 Maximum Aperture
Bright and Fast F/1.4 Maximum Aperture
Extra 11 circular Aperture Blades for perfect rounded Bokeh
The bokeh, however, can be smooth and non-distracting or crunchy and off-putting. The number of blades that make up your lens' aperture are what makes the difference between pleasing bokeh and poor bokeh
Practical Macro Perfromance
When focus down to a very close 0.25m, it allows for nice 0.15x magnification of small objects. Image quality remains very high even at minimum focus distance: Even at F1.4, the lens produces reasonable sharpness, just stop down to F2, the image quality is fantastic sharp.
Beautiful Bokeh Effect
With a super fast F/1.4 aperture you will be able to shoot in low light condition with a fast and safe shutter speed, and aesthetic quality of the blur effect of your images.
What cool people from Kickstarter say?
Christian Göbel
The well known 50mm f1.1 and the 28mm f1.4. Both lenses are well build and fell high quality. The close focusing of the 28mm is really cool. I like the bokeh and the sharpness even on my m43 sensor the quality is excellent
kingbee
Have been using it on my Fuji X-T2 for the past few days, and I must say I'm pretty blown away by the image quality I'm getting. Pretty awesome not just for the price I paid but really at any price. Sharpness in the center is great on the copy I got, even when shooting wide open, and the bokeh is very pleasing
Technical
Warranty
6 Months