Lilliput 668GL-70NP/H/Y LCD 7"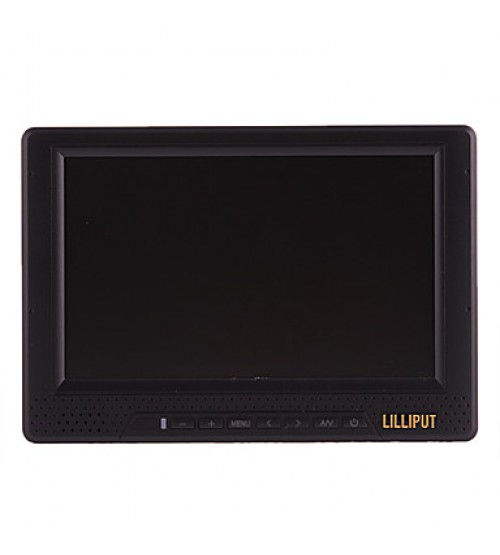 Lihat gambar lebih detail
Product Details 668GL-70NP/H/Y | On camera monitor
Professional photographers and video creators have long sought after a low cost, dependable and easy to use field monitor. True to Lilliput's market position, the 668GL-70NP/H/Y combines durable hardware with incredible price.
The 668GL-70NP/H/Y features a 7 inch screen with enhanced brightness, HDMI input, component video input, composite video input, internal battery, ¼ BSW mounting thread and detachable sun hood, all at a price point that can save professionals a great deal of money.
High contrast ratio
Professional camera crews and photographers require accurate colour representation on their field monitor, and the 668GL provides just that. The LED backlit, matte display has a 500:1 colour contrast ratio so colours are rich and vibrant, and the matte display prevents any unnecessary glare or reflection
Built in rechargeable battery
The 668GL has an internal, user replaceable, rechargeable battery that holds charge for around 2-3 hours of continuous use. One internal battery is supplied with the monitor as standard, and extra internal and external backup batteries can be purchased for this 668GL-70NP.
Specifications 668GL-70NP/H/Y | On camera monitor
LCD 16:9 Aspect Ratio
HDMI & YPbPr Input
Max 1920×1080 pixels
Application for Full HD Video Camera in CCTV Monitoring and Making Movies

Specifications
Panel Size: 7" (16:9)
Resolution: 800×480, up to 1920×1080
Brightness: 450cd/? (optional: 250cd/?)
Contrast: 500:1
Viewing Angle: 120°/ 140°(H/V)
Input Voltage: DC 12V
Input Signal: HDMI,YPbPr, AV
Battery: 2200mAh/7.4V (built-in)
Current: 650mA (1.2A when charging)
Standby Current: ≤50mA
Power Consumption: ≤8W
Input Resistance: 75Ω
Input Frequency: H/30-60KHz,V/60-75Hz
Audio Output: ≥250mW
Speaker: ×1(front)
Size(LWD): 188×125×33mm
194.4×134.1×63.2mm (with sun shade)
Weight: 542g / 582g (with sun shade)

Included
2200mAh/7.4V Li-ion battery
Sun shade
Bracket
12V1.5A DC adapter
Remote control
Manual
Battery charger (optional)
HDMI to mini HDMI cable (optional)
Shoe mount (for camera only) (optional)
Technical
Warranty
Non Warranty