Lilliput Q5 Full HD Metal Frame 5" SDI Monitor with HDMI/SDI Cross Conversion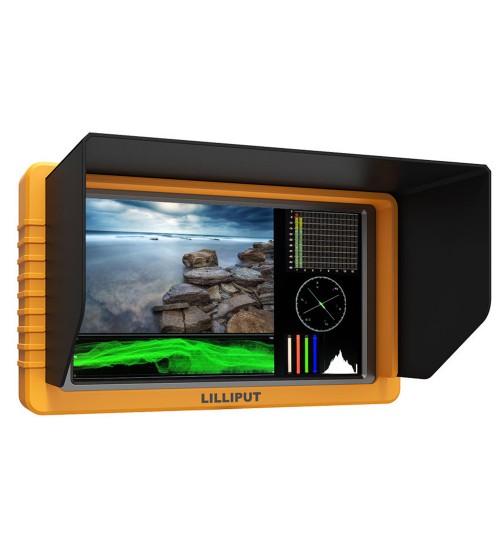 Lihat gambar lebih detail
The Lilliput Q5 is the distillation of expertise in small form camera monitors, in an even smaller 5 inch form factor, making it the most powerful compact field monitor ever produced to date. Featuring the newest panel type giving full HD 1920x1200 resolution native and enabled with SDI-HDMI cross conversion meaning that you can now output in either HDMI or SDI regardless of input, making it ideal for a professional workflow.
The full metal outer body protects the unit against bumps and scrapes and both BSW threads and VESA 75 mounting allow both for mobile work and for studio installation.
Screen size (diagonal)
5.5"
Aspect ratio
16:9
Resolution (pixels)
1920x1080 (401ppi) (native
Viewing angle (degrees)
165º x, 165º y
Brightness (cd/m²)
450
Contrast ratio
1000:1
LCD backlight
LED
Video inputs
HDMI, 3G-SDI (via BNC)
Video outputs
HDMI, 3G-SDI (via BNC) (Cross conversion allows for both outputs regardless of input)
Audio outputs
Built in speaker, Ear-phone jack
Touch screen inputs
None
Input power source
DC 12V
Operating temperature
-20ºC to 60ºC
Mount type
¼ inch BSW thread, VESA 75
Technical
Warranty
Non Warranty