Metz Mecablitz M360 Flash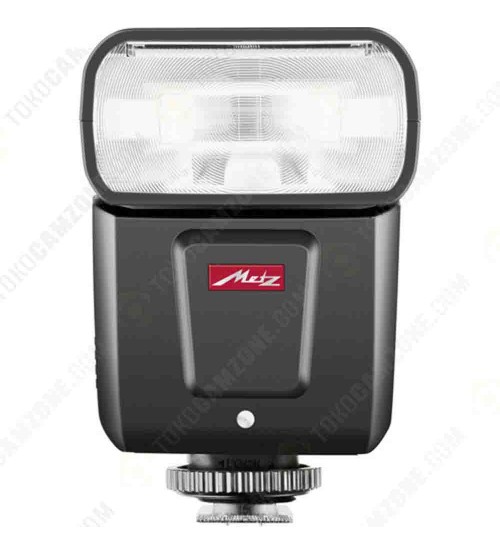 Lihat gambar lebih detail
For Canon, Fujifilm, Nikon, Olympus/ Panasonic, Sony
Product Highlights
- TTL Compatible, 24 105mm Power Zoom
- 2-Button Operation, Guide Number: 118'
- First or Second Curtain Sync
- Extendable Reflector Card
- Integrated 14mm Wide-Angle Diffuser
- Measures 2.5 x 4 x 3"
- Runs on 2 AA Batteries



The compact Mecablitz M360S Flash for Sony Cameras from Metz measures just 2.5 x 4 x 3" and is for smaller DSLRS and mirrorless cameras. This model offers full TTL support for Sony cameras and features a guide number of 131' at ISO 100 and the 105mm zoom setting. It has a motorized zoom range of 24-105mm with a built-in diffusion panel that extends coverage to 14mm lenses.

The flash offers a full range of motion for bounce lighting techniques, including tilt from -7 / + 90 degrees and 270-degree rotation. Convenient features include first and second curtain sync options, a flash readiness and exposure control indicator, automatic device shutdown, and a wake-up function through the camera. The M360 runs on two easily-sourced AA batteries.

Benefits

-Maximum guide number is 131' at ISO 100 (105mm)
-Vertical (-7 / + 90 °) and horizontal (270°) swivel reflector
-Simple operating concept
-Motorized zoom for 24-105mm coverage
-Integrated 19mm wide-angle diffuser
-Extendable reflector card
-Flash readiness and exposure control indicator on the device and on the camera (depending on the camera)
- Automatic device shutdown
- Wake-up function through the camera



Mount
Shoe
Guide No.
131' / 39.93 m ISO 100 at 105 mm Position
Exposure Control
TTL
Angle of Coverage
Wide-Angle Adapter: 14° - 105°
Bounce Head
Yes
Swivel Head
Yes
Coverage
105 - 14 mm (Full Frame)
Zoom Head
Full Frame: 24 - 105 mm
Flash-Ready Indicator
Yes
Wireless Operation
None
Power Source

2 x

AA Alkaline, Rechargeable NiMH Batteries
Dimensions (W x H x D)
2.5 x 3.9 x 3.1" / 64.0 x 100.0 x 80.0 mm
Weight
6.70 oz / 190 g

Packaging Info
Package Weight
0.66 lb
Box Dimensions (LxWxH)
13.0 x 6.6 x 2.6"
Technical
Warranty
Non Warranty