Nikon R1 Close-Up Speedlight Remote Kit For D200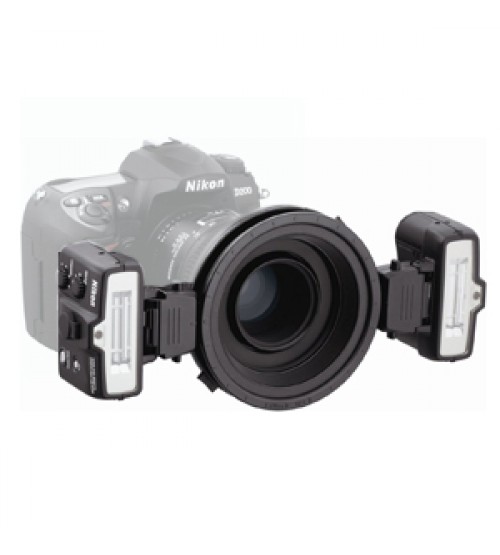 Lihat gambar lebih detail
The Nikon R1 Close-up Speedlight Kit is for use with use with Nikon i-TTL SLRs without built-in Speedlights including D200, D70S and D70. The R1 ring flash is shown above attached to a Nikon D-SLR camera.The kit's main components consist of the SX-1 Attachment Ring that attaches to the lens filter treads via an adapter ring (included), and two SB-R200 wireless macro flash heads. The SX-1 Attachment Ring can accept up to eight SB-R200s and can be attached to a tripod for remote lighting.

This kit provides wireless control convenience. Producing desired close-up lighting effects is straightforward and uncomplicated. Up to three remote Groups and four Channels consisting of two SB-R200 Wireless Remote Speedlights can be arranged to enable creative lighting from the left, right, above or below the subject. SB-R200 Wireless Remote Speedlights can be tilted up to 60 degrees to accommodate lenses with short working distances. Flash compensation or Flash ratio control for desired lighting effects. SX-1 Master Attachment Ring accommodates up to eight SB-R200 Speedlights (off camera), up to four (on camera). SB-800 and/or SB-600 Speedlights can be combined and controlled for additional creative lighting effects.
Specifications
Electronic construction:
Wireless remote flash unit with Automatic Insulated Gate Bipolar Transistor (IGBT) and series circuitry
Guide number:
10/33 (ISO 100, m/ft.), 14/46 (ISO 200, m/ft.)
Angle of coverage:
(78° horizontal, 60° vertical)
Flash modes:
i-TTL, D-TTL, TTL (film-based cameras), M (manual)
Recycling time:
6 seconds or less
Number of flashes:
Approximately 290
Bounce capability:
Flash head tilts down (toward optical axis) to 60° with stops at every 15°, and up (away from optical axis) to 45° with stops at every 15°
Flash duration:
Approximately 600 ¬s
Mounting foot:
Dedicated shoe for SX-1 Attachment Ring or AS-20 Speedlight Stand
Target light:
White LED
Power source:

One 3V CR123A lithium battery

Dimensions (WxHxD):
Approximately 80 mmx—75 mm x 55 mm
3.1" x— 3.0" x— 2.2"
Technical
Warranty
PT Alta Nikindo