Nikon Speedlight SB-700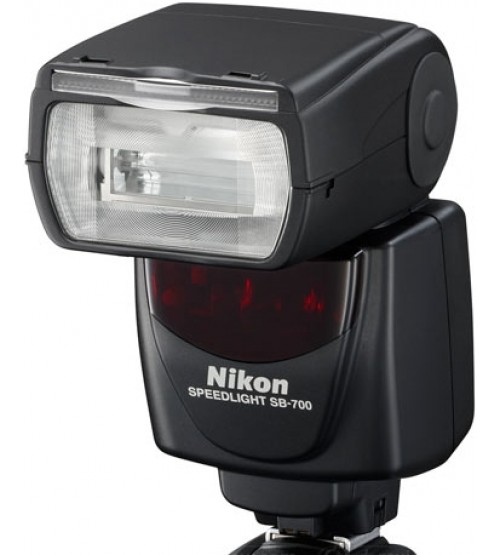 Lihat gambar lebih detail
High performance versatile speedlight brings simplicity to on-camera, remote, and multiple flash photography.
Portable, Versatile Speedlight Unit i-TTL Speedlight optimized for use with Nikon's Creative Lighting System (CLS).
Complete Flash Head Positioning Freedom Bounce 90°up and 7°down with 360° rotation elevates creative lighting freedom.
Wireless Flash Control Wireless Commander Mode controls up to 2 remote Speedlight groups and an unlimited number of compatible Speedlights. When used as a remote speedlight up to 3 Groups can be selected. Four wireless channel options help manage wireless conflicts in multi-photographer environments.
Choose From 3 Light Distribution Patterns Using the simple slider switch on the back of the SB-700, you can optimize light quality by selecting Standard for general illumination, Center-weighted for portraits or Even, for groups or interiors.
Color Filter Identification Automatically identifies mounted hard type color filters and adjusts camera white-balance.* *With select Nikon digital SLRs
Automatic Format Identification Automatically senses the FX or DX-format camera in use and optimizes light distribution.
Nikon's Precision i-TTL Flash Control Delivers precise flash exposures and seamless fill-flash performance—even in challenging lighting situations.
Hot Shoe and Wireless Operation Use on-camera, as a wireless master, commander or remote light source.
Versatile Auto Power Zoom Coverage Smoothly covers lenses as wide as 24mm and up to 120mm in FX-format.
Streamlined Controls and Menus Convenient Rotary Select Dial sets key functions quickly and a prominent Master and Remote control switch simplifies wireless operation.
Flash Tube Overheat Protection To prevent overheating, flash recycle time increases when SB-700 detects heat build-up.
Flash Value (FV) Lock Locks in a specific flash output on the main subject, regardless of aperture, composition or the lens' zoom position.* *With select Nikon digital SLRs
Specification:
Commander Function
Yes
Remote Function
Yes
Guide Number
28m/92ft. (at ISO 100, 35mm zoom head position, in FX format, standard illumination pattern, 20°C/68°F) to 39m/128ft. (at ISO 200 35mm zoom head position, in FX format, standard illumination pattern, 20°C/68°F)
Electronic Construction
Automatic Insulated Gate Bipolar Transistor (IGBT) and series circuitry
Flash Exposure Control
i-TTL
Manual Flash
Distance-priority manual flash
Lens Coverage
24 to 120mm in FX-Format
AF-assist Illuminator Range
10 m (33ft.) at center area using a 50mm f/1.8 lens (approx.)
1m to 10m (3.3 ft. to 33 ft.) for the center of the image with a 50mm f/1.8 lens.
Illumination pattern
There are three illumination patterns: standard, even and center-weighted
The light distribution angle is automatically adjusted to the camera's image area in both FX and DX formats
Other Available Functions
Test Firing
Monitor Pre-flashes
AF-assist illumination for multi-point AF
Modeling illumination
Bounce Function (Tilt)
Flash head tilts down to 7° or up to 90° with click- stops at -7°, 0°, 45°, 60°, 75°, 90°
Bounce Function (Rotate)
Flash head rotates horizontally 180° to the left and right with click-stops at 0°, 30°, 60°, 75°, 90°, 120°, 150°, 180
Minimum Recycling Time
2.5 sec. (approx.) with AA Alkaline (1.5V) batteries
2.5 sec. (approx.) with Evolta (1.5V) batteries
3.5 sec. (approx.) with Lithium (1.5V) batteries
2.5 sec. (approx.) with NiMH (2600 mAh) batteries
2.5 sec. (approx.) with NiMH (eneloop) batteries
Flash Duration
1/1042 sec. at M1/1 (full) output
1/1136 sec. at M1/2 output
1/2857 sec. at M1/4 output
1/5714 sec. at M1/8 output
1/10000 sec. at M1/16 output
1/18182 sec. at M1/32 output
1/25000 sec. at M1/64 output
1/40000 sec. at M1/128 output
Power ON/OFF
Rotate the power switch/wireless mode switch for multiple flash untis to turn the SB-700 on or off
Standby function can also be set
Required Power Source
Use Four AA-type batteries of the same brand from any of the following types:
Four 1.5 V alkaline AA batteries
Four 1.5 V lithium AA batteries
Four Rechargeable 1.2 V NiMH AA batteries
Optional Power Supply
No
Flash-ready Indicator
Lights up: The SB-700 is fully recycled:
Blinks: insufficient flash output for correct exposure (in i-TTL or distance-priority manual flash mode)
Ready Light
Yes
Front
Back
Flash Compensation
-3.0 EV to +3.0 EV in increments of 1/3 EV steps in i-TTL mode
Custom Setting
11 items
Minimum Number of Flashes
160/2.5–30 sec. (AA Alkaline (1.5 V))
230/2.5–30 sec. (Evolta (1.5 V))
330/3.5–30 sec. (Lithium (1.5 V))
260/2.5–30 sec. (NiMH (2600 mAh))
230/2.5–30 sec. (NiMH (eneloop))
Wireless Flash Modes
Off
Master
Remote
SU-4
i-TTL
Manual flash
Quick wireless Mode: A:B
Wireless Communication Channels
Four: 1, 2, 3 and 4Channels
Wireless Groups
Two: A, B
Other Functions
Thermal cut-out
Firmware update
Dimensions
2.8 × 5.0 × 4.1 in. (71.0 × 126.0 × 104.5mm) (Approx.)
Weight
12.7 oz. (360 g) (Approx. Speedlight only)
15.9 oz. (450 g) (Approx. with four 1.5 V alkaline AA batteries)
Supplied Accessories
AS-22 Speedlight Stand
SW-14H Nikon Diffusion Dome
SZ-3TN Incandescent Filter
SZ-3FL Fluorescent Filter
SS-700 Soft Case
Technical
Warranty
PT Alta Nikindo